Knots!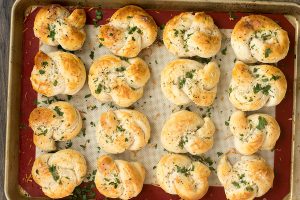 Parmesan Garlic Knots
Course: Sides
Directions
Preheat oven to 400° F
Roll each biscuit into a 10-12 inch rope. Tie a knot and tuck both ends underneath.
Place knots on a greased baking sheet. Don't forget that they will expand, so leave a couple inches in between.
Brush melted Chef Shamy Garlic Butter on top of the knots, then sprinkle grated Parmesan cheese on top of that.
Bake at 400° F for 8-10 minutes. Knots will be golden brown, but make you sure cook them all the way through. It's hard to get heat to penetrate all the way into the middle of a knot of dough.
Allow to cool. Garnish with parsley.
Brush additional melted Garlic Butter on top if desired.