Irish Stew
I like stew. I like stew that has a lot of stuff in it. What I don't like is thin, watery stew. No worries on that here. This beef stew is definitely the best I've ever eaten. 10/10 would recommend.
What makes this stew Irish? Beer! Specifically, Guinness, which is a famous Irish dry stout. Guinness adds a deep, rich flavor and color to this already flavorful stew.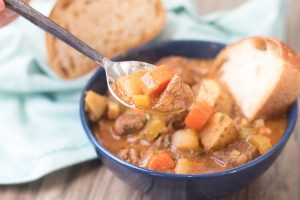 Secret Ingredient
I almost wanted to call this, "Secret Ingredient Stew," because there are a couple simple things added to really kick the flavor up a notch. The first is the beer; we've already mentioned that.
The second is pancetta. Pancetta is pork belly, and it's very similar to bacon. If you've never bought it before, it's usually in the deli section of your grocery store. It is a little expensive, but SO worth it.
The last "secret" ingredient is Chef Shamy Garlic Butter. The onions and pancetta sauteed in Garlic Butter is a thing of beauty.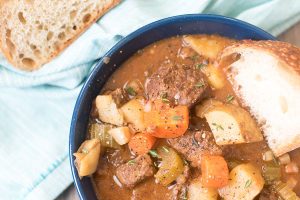 Beef
Let's be honest. If you want to have good beef stew, you've got to get some good beef. There's a lot of ways to go here, but I usually stick with a nice, quality chuck roast. If you're feeling adventurous, try using brisket.
But since the stew simmers for over 2 hours, I think chuck works great. It gets plenty tender in that long, slow cook.
Make sure you have a good piece of dipping bread! I'd even throw some Garlic Butter on there and make it extra special!
Enjoy!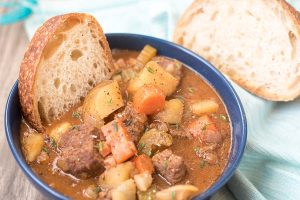 Recipe
Irish Beef Stew
Course: Dinner
Ingredients
2 T olive oil

2 lb beef chuck

1 tsp salt

½ tsp black pepper

2 onions, chopped

3 oz pancetta

3 T flour

1 (12 oz) bottle Guinness beer

4 T tomato paste

4 cups beef broth

3 carrots, peeled and cut into rounds

2 large celery stalks, sliced

3 medium potatoes, peeled and diced

2 bay leaves

1 tsp thyme
Directions
Pour olive oil into a large pot on high heat. Add beef and season with salt and pepper. Quickly sear the beef on all sides, then remove from the pot.
Turn heat down to medium and melt Garlic Butter. Add onions and pancetta and saute until onions are translucent.
Slowly add in flour and allow to cook 1-2 minutes. Stir in Guinness slowly.
Then add tomato paste, beef broth, carrots, celery, potatoes, bay leaves, and thyme. Add the meat back into the pot as well. Stir to fully combine. Reduce heat to low and simmer covered for 2 hours.
Remove lid and simmer an additional 30 minutes until beef is fall apart tender and the stew is nice and thick.
Don't forget to remove the bay leaves!
Serve with bread.