Chips and Dip
No matter what day of the week or the time of year, I'll almost always choose chips and dip over any other snack. And that goes double for Homemade Queso Dip!
Sometimes called "Chile con queso," this amazing dip is served in many Tex-Mex and Mexican style restaurants. If you've never had it, it's a creamy cheese sauce, served warm. You can use it to dip chips or tortillas, or as a condiment for tacos, burritos, or any other Mexican dish.
When it comes to chips and dip, if you're going to go homemade, it had better be worth it, and this recipe sure is!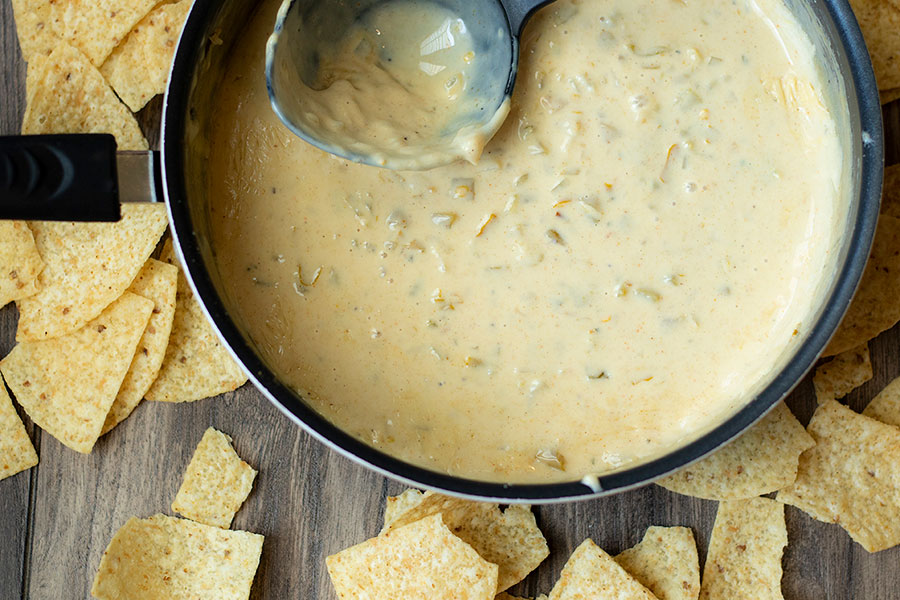 Easy and Delicious
This recipe starts (as many good ones do) with Chef Shamy Garlic Butter and onions. Together, they're create a really good foundation of flavor, improving every other ingredient as they're added. Our Garlic Butter has the perfect amount of garlic to compliment the onions.
Once your onions are soft, add some milk. Then add about a pound of white American cheese. Yes, American cheese is processed, but it's silky and creamy when melted.
Keep stirring until the cheese has melted. Add more milk if needed– we want the dip to be creamy, but not too thick. Also, as as it cools, it will get thicker. The recipe is a little vague about how much milk you need, partly because it depends on your preference. We started with 1/2 a cup, and ended up using another tablespoon or two.
Then add your green chiles, some cumin, and a little bit of cayenne. Stir it up and heat it through, and voila! You're ready to dip!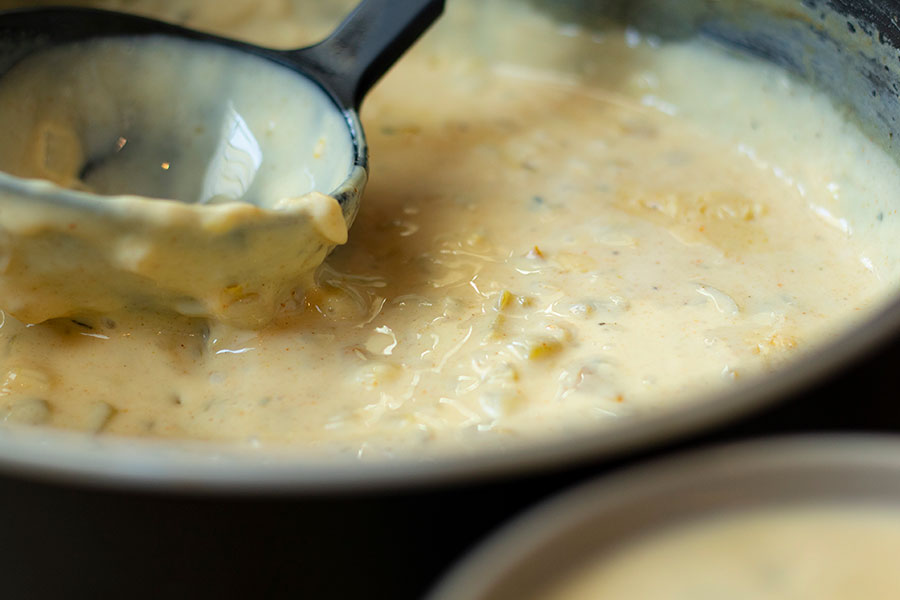 Spicy Cheese
Queso dip is supposed to be a little bit spicy. The green chiles add a bit of spicy flavor, but it's really the cayenne pepper that brings the heat.
Of course, everyone's tolerance and love of spice is different. This recipe calls for a pretty average 1/2 teaspoon. Any spice lovers out there can add a little more. If you're nervous, just add a pinch to start– then taste it and add some more!
Enjoy!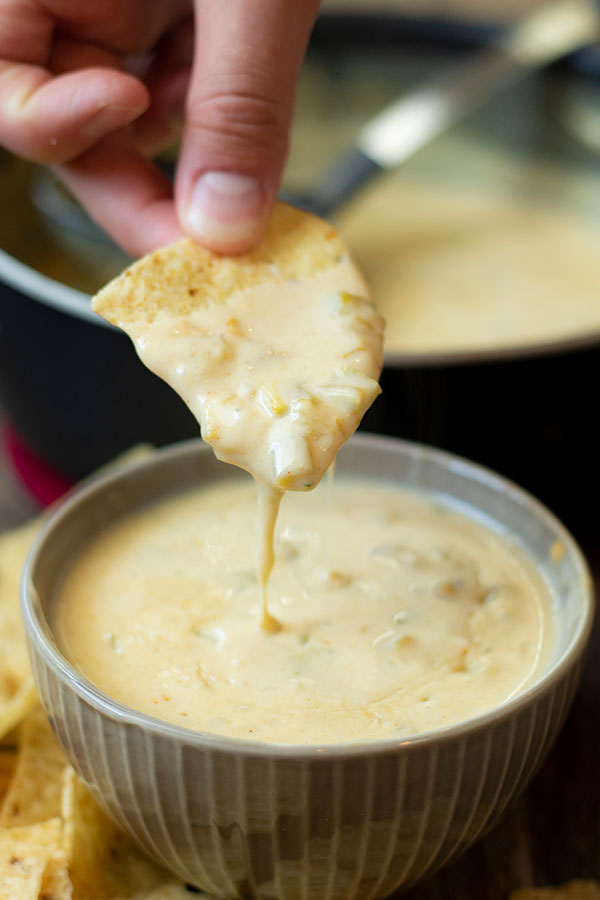 Homemade Queso Dip
Course: Sides, Appetizers, sauces
Ingredients
1 medium onion, finely diced

1 pound white American cheese, cubed

½ cup – 1 cup milk

2 (4 oz) cans chopped green chilies

1½ tsp cumin

½ tsp cayenne pepper
Directions
Melt Garlic Butter over medium heat in a large sauce pan. Add onion and saute until soft and translucent.
Add 1/2 cup of milk, then American cheese. Stir until cheese is completely melted. Add more milk if the sauce is too thick.
Stir in green chiles, cumin, and cayenne. Heat through and serve immediately.