Scones
Glazed Strawberry Scones are my new favorite baked good. They are SO delicious! There's a ton of strawberry flavor, both from our Fresh Strawberry Honey Butter and fresh strawberries!
Scones are often dry and bland. But they're supposed to be moist, fluffy, and flavorful. There are a couple of keys to making good scones, and we'll talk about a few technical things throughout the rest of this post. But in terms of flavor, having the Strawberry Honey Butter really helps. It helps to distribute a kiss of fruitiness throughout the whole scone, rather than just in a burst of fresh strawberry.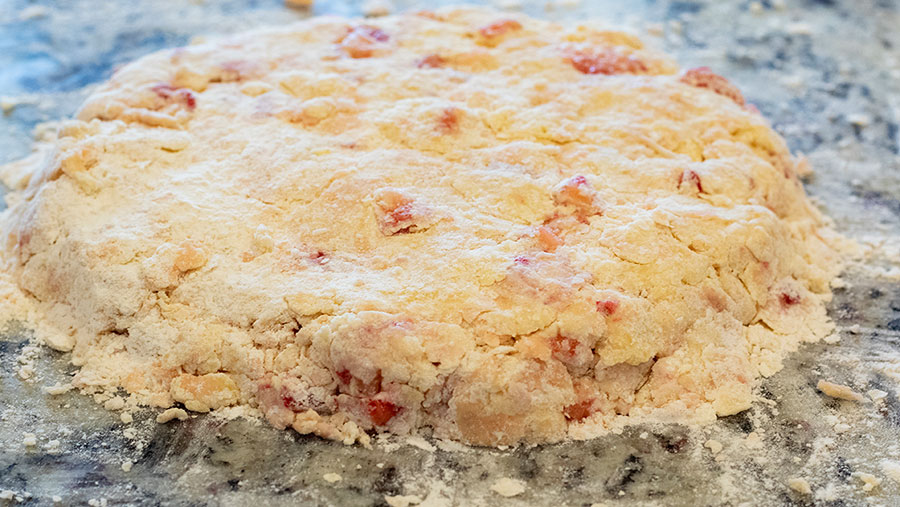 The Dough
Scone dough looks pretty easy when you take a glance at the ingredient list, but it can be tricky to get absolutely right. First things first, sift your dry ingredients. It's a hassle but helps.
When you're working the butter into the dry ingredients, make sure the butter is cold. I like to use my fingers to combine the butter with the flour and sugar. It gives a little more control and I can feel the texture better.
The eggs and cream should also be cold when added.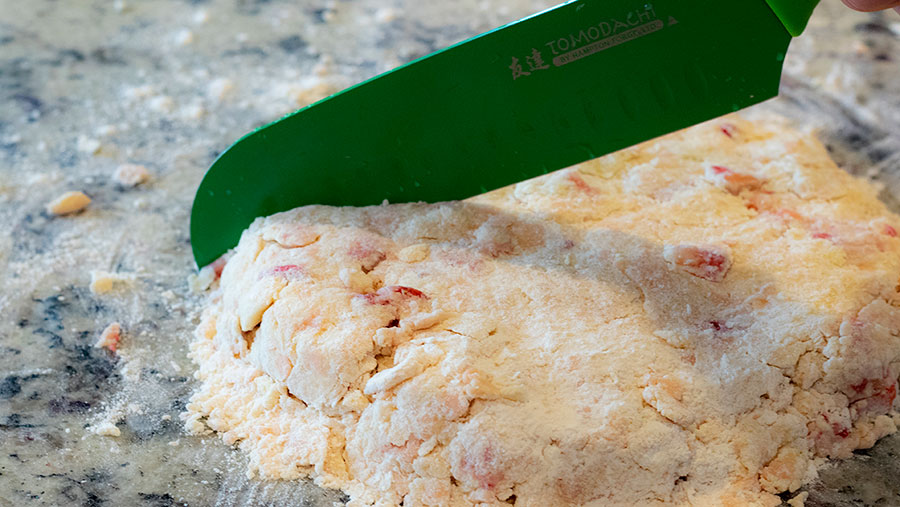 Here's the big one, though: Don't over mix! If you over mix, the scones will be dense and dry. Stir the eggs and cream in with a wooden spoon just until all the dry ingredients are moistened. No more! Trust me!
Without working the dough any further, tip it out onto a lightly floured surface and gently shape it into a circle. Then cut 8 wedges. Then carefully lift edge wedge onto your baking tray.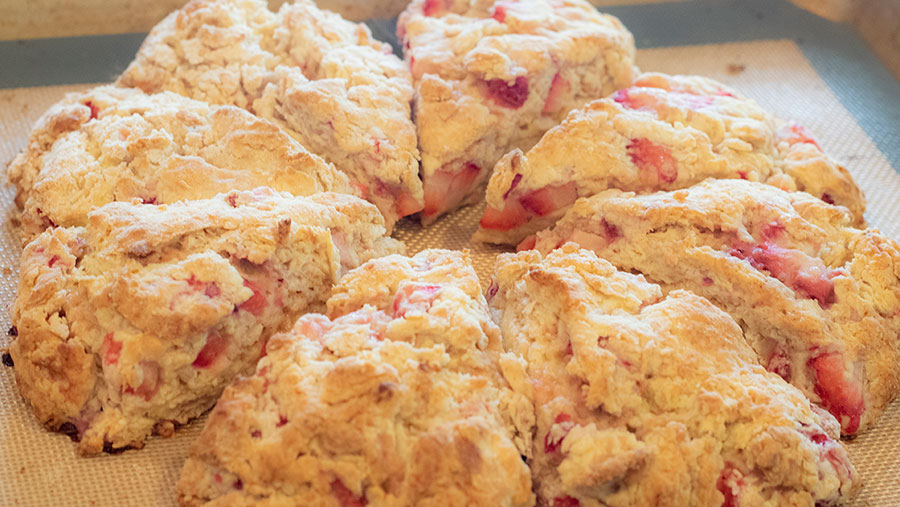 Baking
It's imperative to not bake these scones too long. If they stay in the oven for longer than they need to, they'll dry out, which we don't want.
Part of the trick here is knowing your oven, but the other trick is knowing when scones are done. They'll be a light golden brown on top. The inside might look wet still, but that's just the moisture from the strawberries. The recipe says 15 minutes, and I would stand by that.
Enjoy!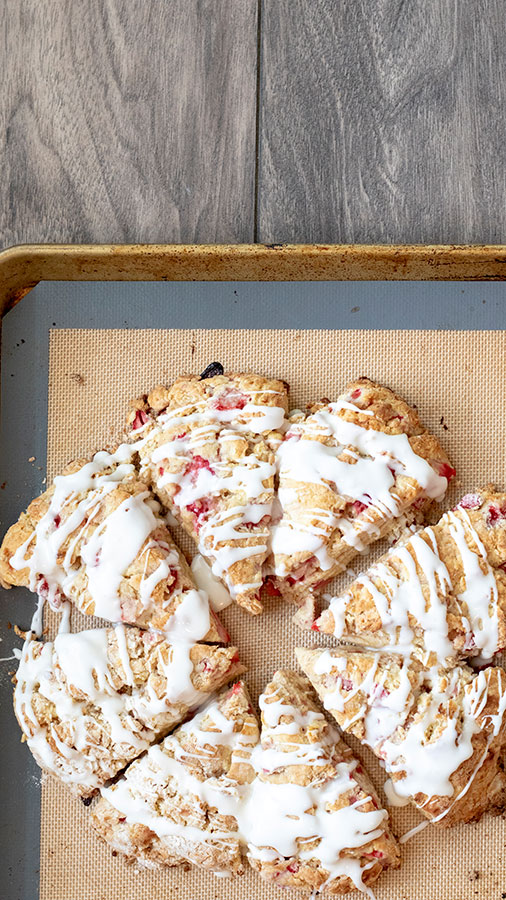 Glazed Strawberry Scones
Course: Dessert, Sweets, Snacks
Ingredients
For the Scones:

2½ cups all-purpose flour

2 T sugar

1 T baking powder

¼ tsp salt

½ cup Fresh Churned Strawberry Honey Butter (chilled)

1 cup chopped fresh strawberries

2 eggs lightly beaten

½ cup heavy whipping cream

For the Glaze:

1 cup powdered sugar

1-2 T milk
Directions
Preheat oven to 400° F.
Sift flour, sugar, baking powder, and salt into a large mixing bowl. Stir with a fork to combine. Add chilled Strawberry Honey Butter and work it into the dry ingredients until the dough resembles pea size crumbs.
Gently stir into fresh strawberries.
In a small dish, mix beaten eggs with cream, then add it to the mixture. Use a wooden spoon to stir until just moistened. Don't over mix.
Tip dough onto a lightly floured surface, then shape into a circle.
Use a knife to cut into 8 wedges.
Transfer onto a greased baking sheet.
Bake at 400° F for 15 minutes.
Allow scones to cool. Meanwhile, make the glaze. Whisk powdered sugar with milk until combined.
Drizzle over cooled scones.
Serve.