Garlic and Ginger
A match made in heaven. Seriously. Garlic and ginger are two amazing flavors by themselves, but put them together and you've got an absolute slam dunk. They're the perfect combination for shrimp. I love shrimp. They're so easy and fast to cook, and they take on whatever flavor you give them. This time, adding Chef Shamy Parmesan Basil Garlic Butter really gives a great garlic bite. The butter also gives the needed fat that's needed. They're delicious! These Ginger and Garlic Shrimp may be one of my new favorite ways to serve the crustaceans!
Definitely had to google how to spell "crustacean."
And to double check that shrimp fell into that category.
It's fine.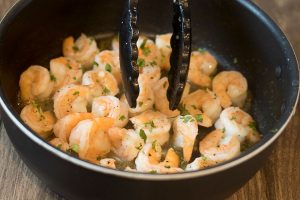 Shrimp
So let's talk about the little crustaceans. Hah. Third times the charm for the spelling that time.
Shrimp are one of my favorite seafood. Partly because I like all the different options available to an adventurous cook. But also because shrimp are pretty easy to get. Even if you live in a land locked state, you can find decent shrimp. You can find them canned (not recommended), frozen, refrigerated, or (if you're lucky) fresh.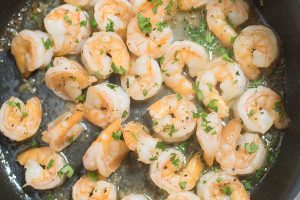 Regardless of how you buy them, it's important that you peel and devein the shrimp. If you're new to shrimp, and that frightens you, have no fear. Here's a great tutorial. I recommend taking the tails off, just so you don't have to deal with them. But it's up to you.
So have no fear! Get yourself to the store and make these Ginger and Garlic Shrimp pronto!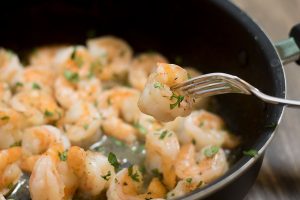 Ginger and Garlic Shrimp
Ginger and Garlic Shrimp
Course: Dinner
Ingredients
1 T ginger root, peeled chopped fine

12 ounces shrimp, peeled and deveined

Salt and pepper

1⁄4 cup white wine

1⁄4 cup cilantro, roughly chopped
Directions
In a medium skillet, melt Garlic Butter. Add ginger and saute about 2 minutes.
Add shrimp. Season with salt and pepper. Cook shrimp 2 minutes, then flip.
Add white wine.
Cook shrimp another 2 minutes, or until just cooked through. Remove shrimp from the pan and cook white wine down a little bit to create a thicker sauce. Once the white wine has cooked down, remove pan from the heat.
Add shrimp back to the pan, and toss in the sauce.
Add cilantro as a garnish.
Serve immediately