Pizza with a Twist
Have you ever met anyone who doesn't like pizza? I honestly haven't. Everyone likes pizza! At least, everyone likes regular pizza. White pizza is a whole different story, and not everyone likes it. For those who don't know, white pizza is a twist on the classic pie; instead of red sauce, it's replaced with ricotta cheese or Alfredo sauce. Pizza is a staple food in my household. And I've got to be honest, every once in a while, it's nice to take a break from the traditional slice to something a little different.
White Pizza the Right Way
Pizza without the classic red sauce can be difficult to pull off– a lot of people fault a white pizza for being boring or bland. But you know what the answer is to that: Chef Shamy Parmesan Basil Garlic Butter! The flavor of our Garlic Butter is dynamite, and it knocks my socks off in this recipe. Garlic is usually a crucial ingredients in white pizza– it's much needed to cut through all the fat of the ricotta. Add chicken and spinach, and you've got a delicious pie that will be one of the best you've ever tasted!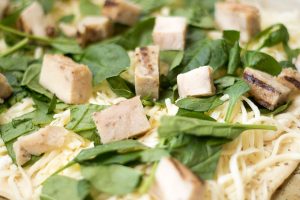 Toppings and Variations
We've added spinach, chicken, and red pepper flakes to our white pizza. You can build your pizza however you'd like. Put some slices of red onion on there, or some mushrooms. If you're really feeling adventurous, try artichokes. Go a step farther and do prosciutto and figs. Top your pizza with arugula. The possibilities are truly endless.
Here's another white pizza to try. This one has Alfredo sauce and it's courtesy of our friend Amber: Chicken Alfredo Garlic Bread Pizza.
If you're as pizza obsessed as me, try our Homemade Pizza on the Grill with Garlic Butter
Happy eating!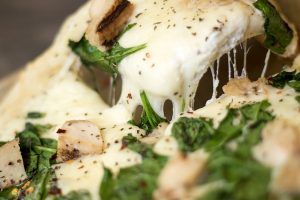 Garlic, Chicken, and Spinach White Pizza
Course: Dinner
Ingredients
Ready made pizza crust

1 cup ricotta cheese

1/2 tsp salt

1/4 tsp pepper

1 1/2 cups mozzarella

8 oz cooked chicken breast, diced into bit size pieces

2 oz spinach, chopped

Red pepper flakes, for garnish
Directions
Preheat oven to 450°
In a small bowl, mix ricotta with salt and pepper
Spread ready made pizza crust onto a pizza pan and brush with melted Chef Shamy Garlic Butter, covering the crust all the way to the edges
Add dollops of ricotta, then top with mozzarella, spinach, and chicken.
Bake at 450° for 15-20 minutes until crust is golden brown and cheese is melted.
Garnish with red pepper flakes
Serve immediately