Let's Talk Trifle!
A good trifle trumps just about any dessert in my book. It's pretty to look at, and it's delicious to eat! This trifle is packed with fresh fruit, soft jello, and creamy pudding. Then there's a layer of sponge cake to bring everything together. Fresh fruit really is the key here though; it will keep this extravagant dessert feeling light and delicate! So do whatever you can to find fresh fruit! Find what's in season and go to town with it!
Here's a handy guide to help you keep track of what will be readily available at what time of year!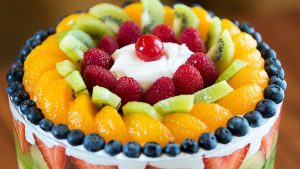 Variety
Trifle is one of those things that can be made a thousand different ways. The one we made here was absolutely scrumptious, and I'm not suggesting that you change anything– at least the first time. But sometimes you only have what ingredients you have. And the great thing about trifle is that you can pick and choose what fruits you want to include. And mix up the Jello and pudding flavors too! You can have a myriad of different trifles.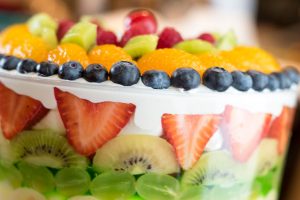 But there is something special about this. The fresh fruit, along with the strawberry and lime Jello, and the banana pudding was beautiful and tropical. Enjoy! Tell me what you think!
Speaking of fresh fruit, try our Triple Berries and Cream with Raw Honey! You'll love it!
Here's a series of step by step photos to show our layers!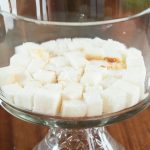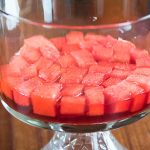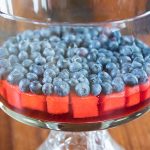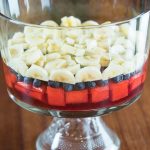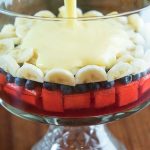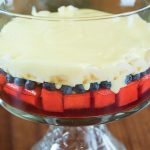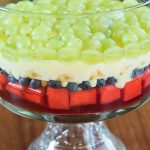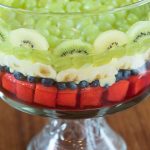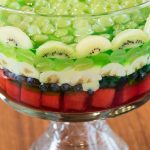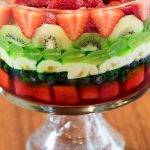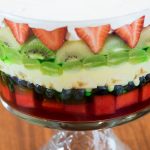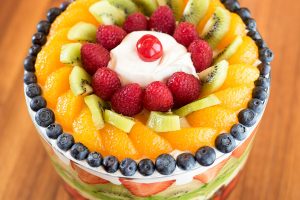 Fresh Fruit Trifle
*Photos courtesy of Stanford Investment Systems, all rights reserved
Fresh Fruit English Trifle | Chef Shamy
Course: Dessert
Ingredients
1 large box each:strawberry Jello, Lime Jello & instant banana pudding

2 cups milk

1 cup each, blueberries, strawberries, grapes

2 bananas

2 kiwi fruit

½ lb sponge cake

1 pint cream whipped with ½ cup sugar

Any of the following fruits to decorate the top: mandarin oranges, maraschino cherries, kiwi, strawberry, raspberry, strawberries etc.
Directions
In the bottom of a trifle dish, put sponge cake and first layer of fruit.
Mix a box of Jello (your choice of color) using the quick set instructions. By shorting the water and the ice by 30% the layers will hold together better when serving and it will set even faster cutting down on the time to complete the trifle. After the ice has melted, pour over the layer of fruit and sponge cake. Make sure to put in refrigerator while cutting bananas.
Place your next layer of fruit in the trifle dish
Mix the 2 cups milk with the banana pudding (again, short of the recipe on the box for firmness and quick set) Then place another layer of fruit and repeat above directions for the other bottle of jello.
With each layer you can ring the inside of the glass with fruit sliced flat and used to decorate the inside of the trifle dish.
The top layer will be whipped cream, which then can be decorated with the remaining and most colorful of your fruits.
Save some of the whip cream for the individual servings. Refrigerate until served.