Potato Salad
Potato salad is a staple of American grilling season. It's a must have side dish– and most people like it! It also has the added benefit of being easy and cheap to make.
Almost everyone associates potato salads with mayonnaise. While I have nothing against mayo, there can be too much, and the flavors can get a little muddy if not careful.
But this recipe has absolutely ZERO mayo! It's our French Style French Onion Potato Salad!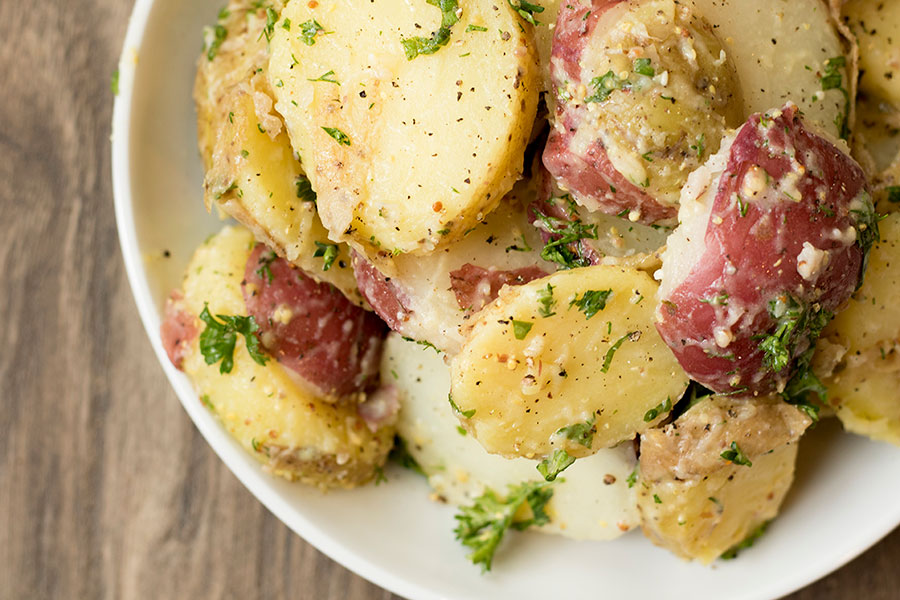 French Style
French style potato salad means no mayo– a mix of fresh herbs and a homemade vinaigrette is used instead. A classic vinaigrette is olive oil, vinegar, some lemon juice, and maybe some salt and pepper. But we decided to replace the olive oil with Chef Shamy French Onion Butter.
The butter melts over the warm potatoes with some white wine, and the potatoes absorb all that delicious flavor. Add some white wine vinegar, some Dijon mustard, salt, pepper, and fresh herbs: amazing flavor!
And unlike the mayo version, this salad is light and fresh!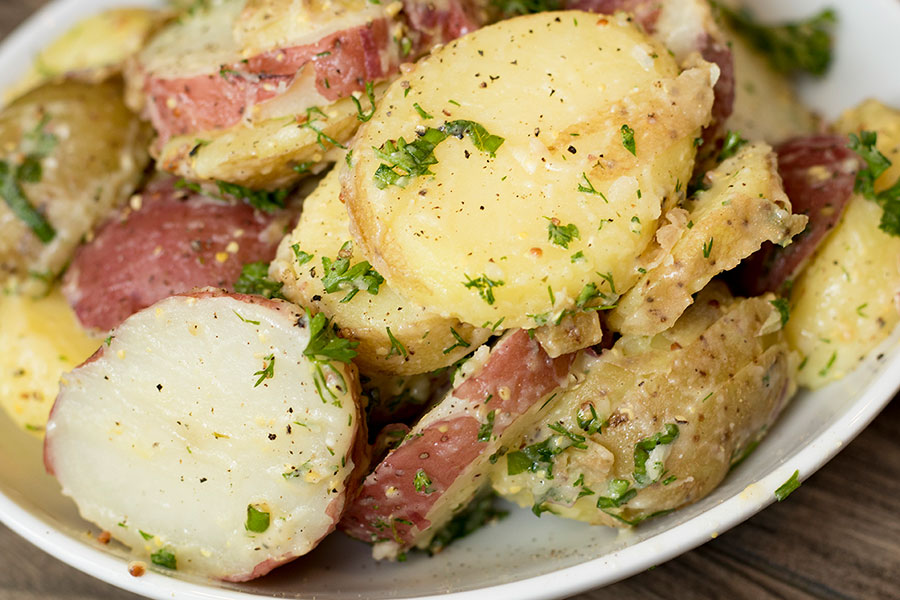 Fresh Herbs
I personally think that one of the keys to delicious home cooking is using fresh herbs whenever possible. They add freshness and great flavor to any dish.
This recipe calls for scallions, dill, parsley, and basil; all fresh.
Don't skimp! It's worth the couple of extra bucks to buy the herbs in your produce department! Combined with the French Onion Butter, it's an amazing flavor you won't forget!
You'll never make the mayo soaked potatoes ever again!
Enjoy!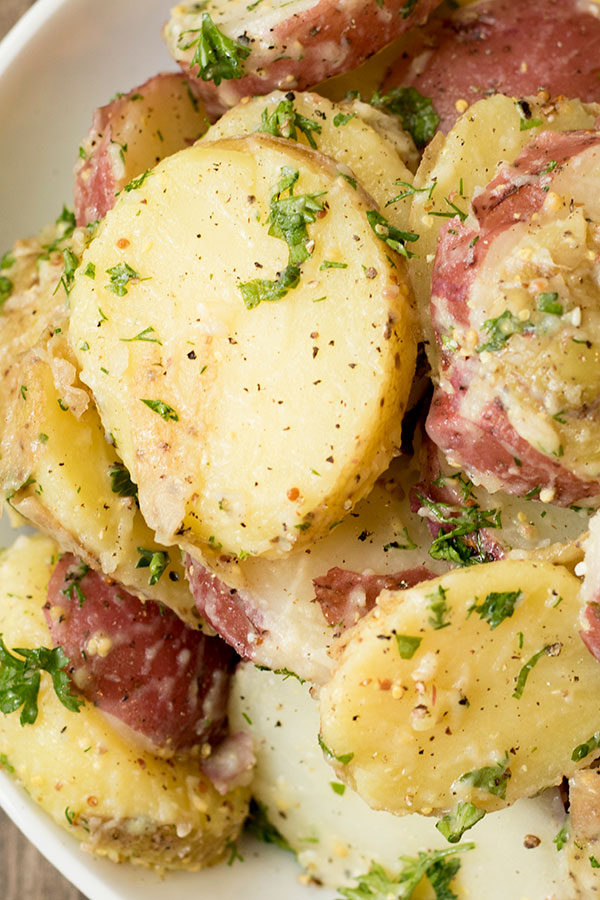 French Onion Potato Salad
Course: Sides
Ingredients
1 lb small white potatoes

1 lb small red potatoes

2 T white wine

2 T white wine vinegar

½ tsp Dijon mustard

2 tsp salt

¾ tsp pepper

2 T chopped fresh dill

¼ cup minced scallions

2 T chopped fresh parsley

2 T chopped fresh basil
Directions
Boil the potatoes in lightly salted water for 25-30 minutes, or until they are just tender. Over cooking the potatoes will result in a mushy salad. Drain and allow the potatoes to cool partway.
When the potatoes are cool enough to handle, but not completely cool, slice into coins about 1/2 inch thick and place them in a medium bowl.
Add French Onion Butter and white wine, and toss to combine, allowing the butter to melt.
Once the liquid has been absorbed, add vinegar, mustard, salt, and pepper, and toss to combine.
Add dill, scallions, parsley, and basil. Stir gently to combine.
Can be served warm or at room temperature.