It's Peach Season!
It's the most wonderful time of the year! At least, it's my favorite time of the year. It's that time late in the summer when the peaches start to get sweet and ripe. There's some disagreement about when peach season is– it's fuzzy, you might say.
I'm so funny.
But, the season does depend on where you live. Regardless, where I live, peaches are in full deliciousness, and I love it. I'll do almost anything for a fresh peach. I would even say that fresh peaches are my favorite food.
Peaches… On the Grill?
Here at Chef Shamy, we've thrown lots of things on the grill. You're probably used to it by now. But peaches? Push your skepticism aside and try it! It's the best thing I've had in a long time. But I might be biased; we've already established my love of the fruit.
It's simple and easy. Grab a peach. You'll want a nice, ripe one. Not too soft, or it will disintegrate on the grill. Not too hard, or you won't be able to get the pit out. Slice it in half and get rid of the pit. Spread a little Chef Shamy Cinnamon Honey Butter on the flesh side and stick it, flesh side down, on the grill. There's no need to flip it– you'll get all the flavor you need. Leave it on until there are nice caramelized grill marks and viola! A Cinnamon Grilled Peach!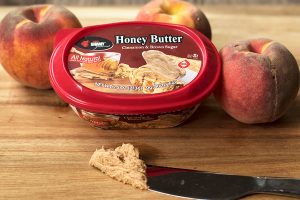 Peaches à la mode
When I pulled the peach off the grill, I thought, "I'll just take a bite to see how it tastes." Suddenly the whole thing was gone. It was great. But if I have another one, I would have it à la mode. A scoop of vanilla ice cream would be the perfect companion to this sweet treat. Give it a try and let me know what you think!
If you can't get enough fruit on the grill, try our Cinnamon Grilled Pineapple!
Or these delicious Grilled Fruit Skewers!
Cinnamon Grilled Peaches | Chef Shamy
Course: Dessert
Ingredients
Fresh peach, halved and pitted
Directions
Turn grill or grill pan to medium
Spread 1 T Cinnamon Butter on each half of the peach
Lay flesh side down on grill or grill pan
Cook 3-4 minutes, or until there are clear grill marks
Serve with a scoop of vanilla ice cream