Hash Browns
With Cheesy Hash Browns, our favorite breakfast-time potato staple just got an upgrade! Hash Browns (two words, not one, as spell check is constantly reminding me) are just potatoes– usually shredded.
But they don't have to be: what truly defines this dish is the caramelization of the potatoes due to pressing them down on a pan over high heat. So it doesn't matter whether they're shredded or diced (like this recipe), as long as there's some nice caramelization! And it's even more delicious if they're caramelized in Garlic Butter!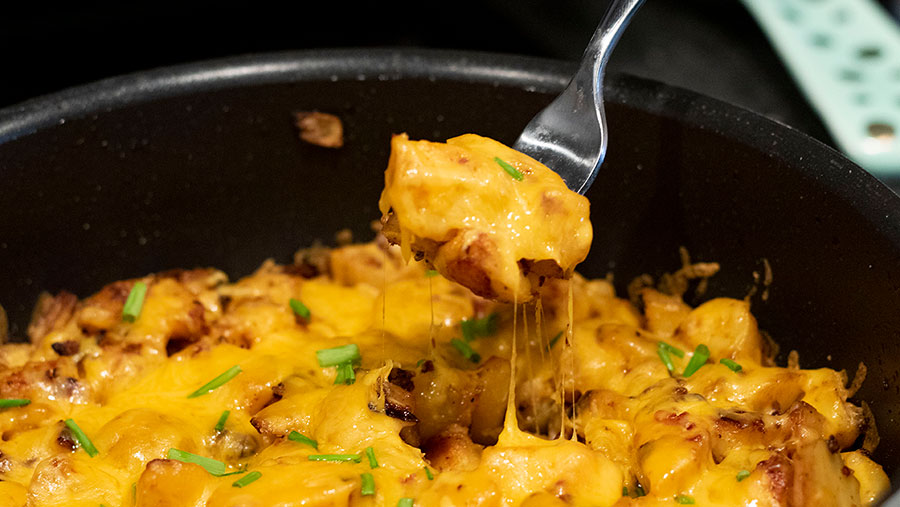 Flavoring Potatoes
You need our Fresh Churned Garlic Butter when you make potatoes! Potatoes have no flavor, so they'll take on whatever flavor you give them! And Garlic Butter is the best flavor to give them!
But there's a couple other things that are important. Salt and pepper and essential. Potatoes need salt, so be generous. We've also added some paprika for some smokiness– it works really well with the cheese. I recommend sharp cheddar, but any cheddar will do.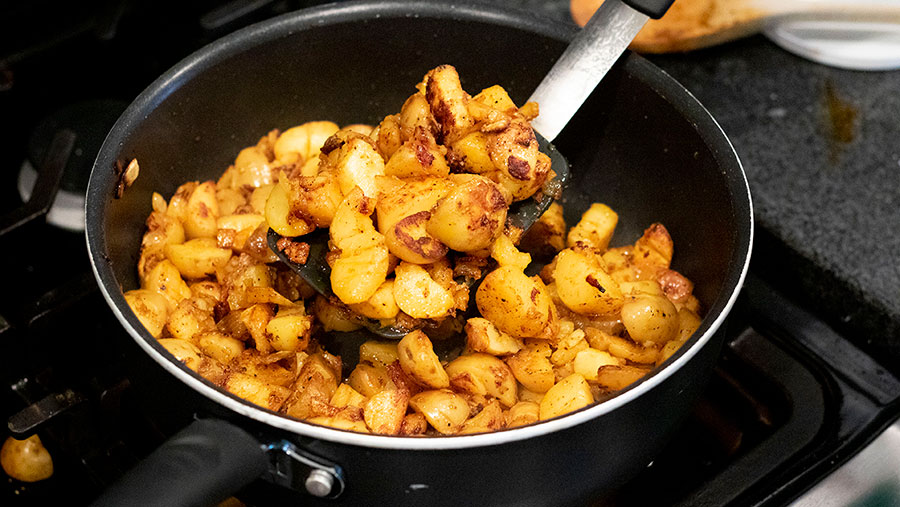 Making It
Once your baby potatoes are cut into pieces, it's important to cook them before adding them to the pan. Uncooked potatoes will burn on the outside before cooking through if they're only cooked in the pan.
So boil them until tender, then throw them into the pan of onions and Garlic Butter. Don't touch them! They need to sit for a few minutes so they can get that nice crispy outside! Flip them, and add the cheese!
It's really easy!
Enjoy!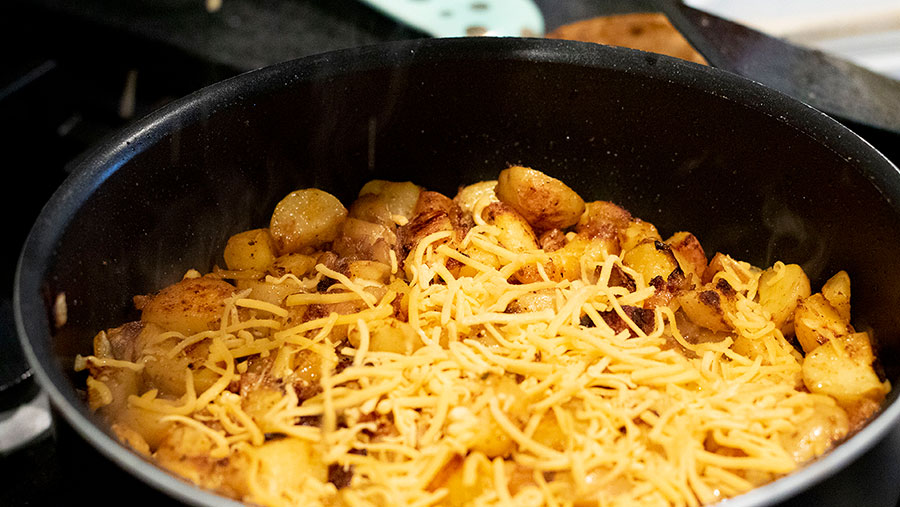 Cheesy Hash Browns
Course: Breakfast, Sides
Ingredients
1½ lb baby potatoes

1 medium onion, diced

1 tsp paprika

Salt and pepper, to taste

1-2 cups grated sharp cheddar cheese

Chopped fresh chives, for garnish
Directions
Cut baby potatoes in half, and put in a pot. Cover with water, and boil until fork tender.
Meanwhile, melt Garlic Butter in a large pan over medium heat. Add onions and cook 5 minutes, until soft. Turn up heat to high and add potatoes. Sprinkle with paprika, salt, and pepper, and stir to coat potatoes with seasonings and Garlic Butter.
Press potatoes into a single layer and cook for 2-3 minutes. Flip, press down again, and layer cheese on top.
Once cheese is melted, garnish with fresh chives and serve.