Cheese
There's one saying that I choose to live by: There's no such thing as too much cheese. And it's worked out pretty well so far. Cheese is one of the best things in life, and so when I have a cheesy dish, it excites me. There's nothing better than Baked Garlic Cheesy Potatoes.
Let's go through the list: Cheese, check. Garlic, check. Baked potatoes, check. Easy? Check.
When a recipe checks all the boxes, you know you're going to make it over and over again.
Garlic Butter
Chef Shamy Parmesan Basil Garlic Butter is the perfect thing to flavor potatoes of any kind. It's got the just the right amount of garlic, a hint of sharp Parmesan, and a beautiful dab of basil. And because potatoes are really a blank canvas when it comes to flavor, it works well. Potatoes will adopt any flavor you give them, so it's important to give them a great flavor!
Add bacon and green onion on top of your cheesy potatoes and you've got a killer side dish!
Try our Cream Cheese Garlic Mashed Potatoes!
Or this recipe for Perfect Oven-Baked Fries!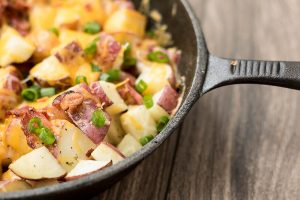 Baked Garlic Cheesy Potatoes
Ingredients
3 T Chef Shamy Parmesan Basil Garlic Butter
2 lbs red potatoes cut into 1 inch cubes
¼ cup grated Parmesan cheese
1 T dry ranch seasoning mix
¾ cup shredded mozzarella cheese
¾ cup shredded cheddar cheese
½ cup Cooked and crumbled bacon
2 T chopped green onions
Instructions
Preheat oven to 350° F.
In a cast iron skillet, melt Garlic Butter over medium heat. Add potato cubes and toss to coat in butter. Add Parmesan cheese and Ranch seasoning.
Cover with foil, and bake for 30-45 minutes, or until potatoes are fork tender.
Sprinkle mozzarella, cheddar, and bacon over top of the potatoes, and broil 3-5 minutes, until cheese is melted.
Garnish with green onions and serve warm!
Baked Garlic Cheesy Potatoes