Breakfast
The most important meal of the day, right? At least that's how the saying goes. I love breakfast food! In fact, if I could choose to go out for any meal, it would be breakfast, because there are so many different things you can have in the morning! But with these Bacon Egg and Cheese Breakfast Sliders, you don't have to go anywhere! You can make yourself a gourmet breakfast right at home, with stuff you probably already have in your pantry and fridge!
This is a healthier alternative to sugary cereals or fattening pastries (though there's nothing wrong with those). But if you're looking for a protein-packed, delicious, nutritious morning meal, these sliders are for you!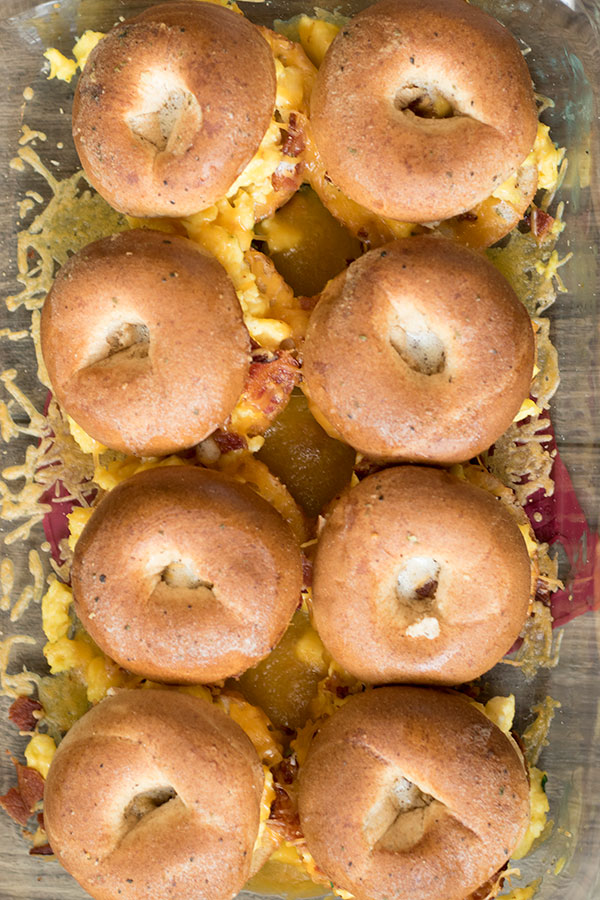 Bacon Egg and Cheese
Bacon, egg, and cheese is the classic breakfast combination. But perhaps you like sausage– or no meat at all. The great thing about recipes like this is you can customize them to your personal taste!
But I like bacon, egg, and cheese, and so anything with all three is a winner in my book.
The classic combo is elevated by the glorious taste of Chef Shamy Parmesan Basil Garlic Butter. It adds a great flavor to offset the saltiness of the bacon, the fluffy eggs, and the sharp cheddar cheese.
Chef Shamy Garlic Butter would taste good on a flip flop, is all I'm saying.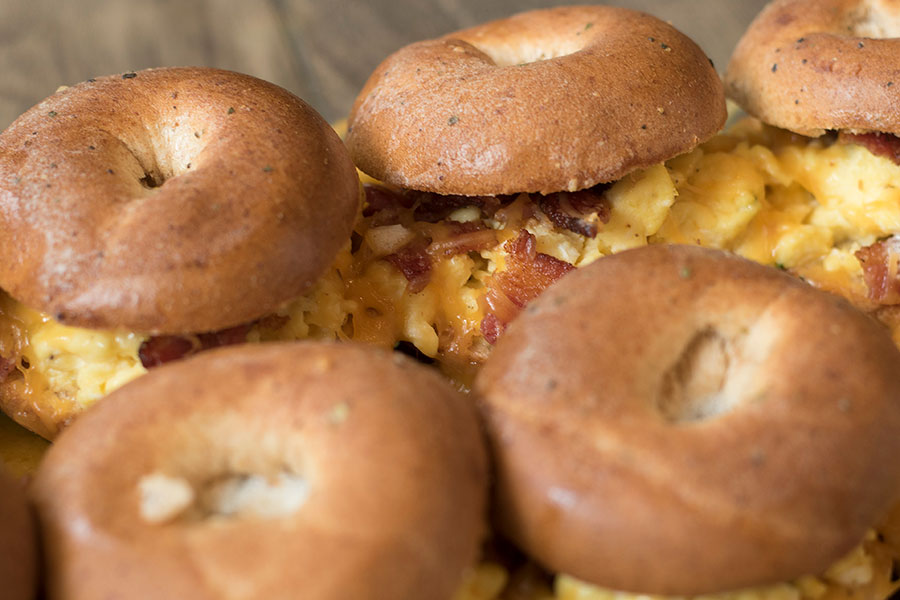 Some Substitutions
We used mini bagels for our breakfast sliders. But if you prefer, you can use biscuits, or English muffins– whatever floats your boat. The mini bagels were perfect, and adding the garlic butter ensures that they don't dry out in the oven.
Also, if cheddar's not your thing, or you have a different cheese in your fridge, experiment! How about some pepperjack? Or Swiss? I truly believe there are no bad choices when it comes to cheese.
Enjoy!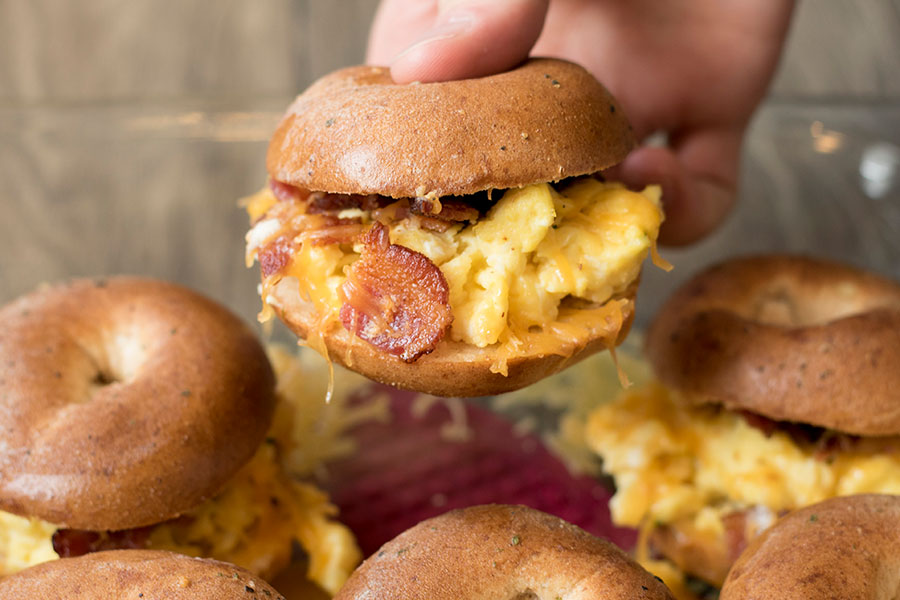 Bacon Egg and Cheese Breakfast Sliders
Course: Breakfast
Ingredients
8 slices bacon

1 T olive oil

8 eggs, beaten

Salt and pepper, taste

2 T fresh chives, chopped

8 mini bagels, halved

4 T Chef Shamy Parmesan Basil Garlic Butter, melted and divided

1½ cups shredded Cheddar cheese
Directions
Preheat oven to 350° F
In a large skillet, cook bacon over medium heat, until crispy. Remember bacon will continue to crisp after you remove it from the pan.
Drain bacon fat from the pan, and add olive oil. Add beaten eggs, and stir continuously, until scrambled. Add salt, pepper, and fresh chives to the eggs.
In a greased 9×13 pan, place the bottom halves of the mini bagels. Paint with 2 Tablespoons of the Garlic Butter, then top with eggs and bacon. Sprinkle cheese evenly between the 8 sliders.
Place the top halves of the bagels on top, then brush with the remaining Garlic Butter.
Bake at 350° for about 10 minutes, or until the bagels are toasted and the cheese is melty.
Serve immediately.