Stuffed Potatoes
Our Mexican Stuffed Potatoes are delicious! They're perfect for lunch or dinner, and they reheat well! So they work great as a meal prep!
A stuffed potato is a gorgeous thing. It's a great way to add flavor and moisture to bland and dry potatoes. You start by baking the potatoes. Then the insides are scooped out, combined with more ingredients, then put back in and baked.
We've decided to infuse our potatoes with some classic Mexican flavors and ingredients, and boy, is it tasty!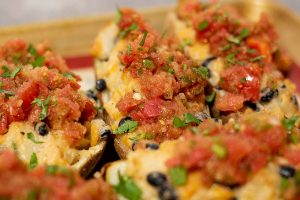 Mexican
The insides of the potatoes are mixed with sour cream and our Fresh Churned Garlic Butter. Sour cream adds a creaminess– and the Garlic Butter adds SO much flavor.
From there, it's pretty simple. We add some black beans and corn, both from a can, and mix everything together. Then the potato skins are stuffed with the mixture, then topped with cheese. You can use cheddar, pepperjack, or a Mexican blend. Whatever you like, whatever you have.
Once they're baked again, and the cheese is melty, top with fresh salsa and cilantro.
Enjoy!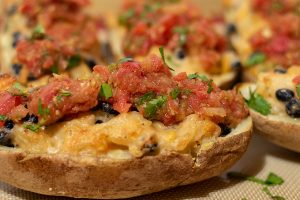 Vegetarian Mexican Stuffed Potatoes
Course: Sides
Ingredients
3 large baking potatoes, scrubbed

4 T sour cream

15 oz can cooked black beans, drained

15 oz can corn, cooked and drained

1 cup shredded cheddar cheese

1 cup salsa

2 T fresh chopped cilantro
Directions
Preheat oven to 400° F.
Bake potatoes for 40-60 minutes, or until completely soft.
Cut potatoes in half lengthwise, and allow to cool.
Scoop potato out of the skin, and place into a mixing bowl. Add sour cream, Garlic Butter, beans, and corn. Mix until completely combined.
Divide mixture evenly between the 6 potato skins. Top with cheddar cheese.
Bake at 400° F for 20 minutes, until warmed through and cheese is completely melted.
Top with salsa and cilantro.
Serve.