Vanilla Bean
Vanilla is one of my favorite flavors. And scents! It really reminds me of the holidays. As fall turns to winter and the holiday season heats up, I always look for reasons to make things with vanilla. Thankfully, Chef Shamy Vanilla Bean Honey Butter helps with my holiday baking! It's a great butter, made with real vanilla beans for real vanilla flavor! Vanilla Bean Lemon Scones use Vanilla Honey Butter, with a sharp lemon glaze. They're perfect for a quick breakfast with a cup of coffee!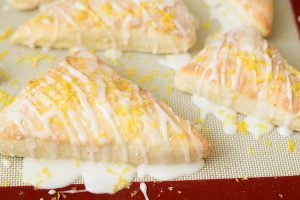 Scones for Breakfast, Lunch, and Dinner
I have a slight obsession with scones. You might have noticed. I'm not sorry about it either, because scones are so delicious and versatile! You can have sweet or savory scones, for any meal! And they're a cinch to make. There's no reason to leave scones out of your holiday baking! Comfort food at it's finest, they can really warm you up on a cold day. Make them with soup, or to compliment your entree, or as a side. Or for a whole meal! I'm getting carried away. Anyway.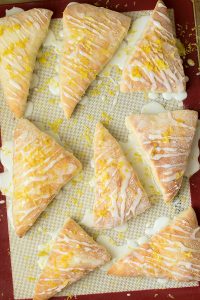 Vanilla + Lemon
I particularly like Vanilla Bean Lemon Scones. Vanilla and lemon are a match from Flavor Combination Heaven! The sweetness of the vanilla sings when paired with the bright, sharp flavor of the lemon. And that lemon glaze is indeed sharp!
What are some of your favorite holiday flavor combinations?
Try these Bacon, Cheddar, and Chive Scones!
Enjoy, and have #AButterHoliday!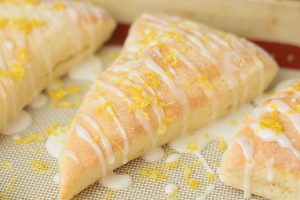 Vanilla Bean Lemon Scones
Course: Dessert, Snacks
Ingredients
Scones:

2 cups flour

1/3 cup sugar

1 T baking powder

1/2 tsp salt

1 T lemon zest (about two lemons)

1 egg yolk

1 cup buttermilk

Lemon Glaze:

1 1/2 cups confectioners' sugar

2 T lemon juice
Directions
Preheat oven to 400° F.
In a large mixing bowl, mix flour, sugar, baking powder, salt, and lemon zest. Add the butter and use a pastry cutter or your fingers to mix in the butter, until the mixture resemble breadcrumbs. Add egg yolk and buttermilk, bringing the mixture together into a dough.
Transfer the dough to a lightly flour work surface. Roll the dough out into a circle about 3/4 of a inch thick. Cut into 8 equal sized triangles, and place them on a baking sheet.
Bake at 400° for 15-20 minutes, until golden.
While the scones cool, make the lemon glaze by mixing powdered sugar with lemon juice until the correct consistency. Add more powdered sugar if needed.
Drizzle lemon glaze over the cooled scones and serve.
Garnish with extra lemon zest.