Steakhouse Butter
Our brand new butter is absolutely delicious! It's our Fresh Churned Steakhouse Butter, made with red peppers. It's bursting with amazing flavor — a little kick of spice and the perfect compliment to a juicy, tender, seared steak. It works great as a finishing butter, like in this recipe. But like our other butters, it's also great to cook with.
Let's talk through this easy recipe and highlight how tasty our newest savory butter is. At the very least, we'll have some copy to break up these mouthwatering photos.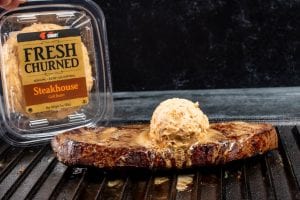 Seared Steak
Searing a steak is the easiest and often quickest way to cook a cut of beef. Our recipe calls for a flat iron steak, but you can use whatever tickles your fancy. The key to cooking a steak perfectly, regardless of the cut, is an accurate meat thermometer. Every has their idea of a perfectly cooked steaks, and there's nothing wrong with that! You like steak cooked how you like it, and you don't have to justify it to me. But — a meat thermometer will be the best way to make sure the meat is cooked to your liking.
There's also a method in which you can touch the meat and compare it to different parts of your body, but I've always found that way to be a little arbitrary. Get yourself a meat thermometer and we're ready to go.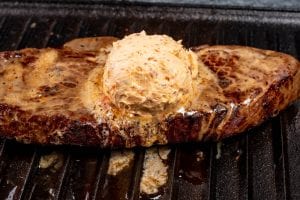 Resting and Finishing
Another key step on the way to a great steak is letting the steak rest. Only a few minutes is needed, but it's essential to get a juicy, tender steak. While your steak is resting, put a dollop of Steakhouse Butter on top. The butter will melt, adding flavor and fat. Ooh, I'm drooling just thinking about it.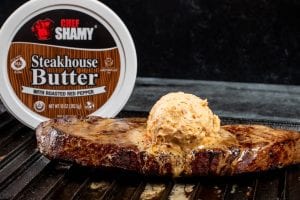 Enjoy!
Steakhouse Butter Seared Steak |
Ingredients
2 beef flat iron steaks

1 T Cooking oil

Salt and pepper, to taste
Directions
Season steaks with salt and pepper on both sides.
Add oil to skillet and heat to high.
Add steaks and cook 3-7 minutes on each side, until meat reaches desired doneness: medium rare 135°; medium 140°; medium well 145°.
Remove steaks from pan and allow to rest for 5 -10 minutes. Place dollop of Steakhouse Butter on top of each steak while they rest.
Serve.