Grilled Cheese
Here at Chef Shamy, we're professionals when it comes to grilled cheese. In fact, many people try our butters for the first time in a grilled cheese context. Well, get ready for our greatest grilled cheese ever: Hawaiian Grilled Cheese!
Yes, you heard right! Pineapple, Canadian bacon, and melty cheese are combined to create a delicious sandwich!
Of course, the real kicker is Chef Shamy Garlic Butter. Garlic Butter makes the best grilled cheese!
Hawaiian
We call this a Hawaiian Grilled Cheese because it has the same ingredients as a Hawaiian Pizza. Pineapple, of course, is the main one.
There's a big debate about Canadian bacon versus ham. Use ham if you want, but I like Canadian bacon. It's not hard to find at the grocery store, and it's usually already sliced nice and thin, perfect for a sandwich. It's got a great saltiness to contrast the sweet pineapple.
Speaking of, you can use fresh pineapple or canned pineapple. It'll depend on the season, as to whether you can even find fresh. If you do use fresh, make sure you cut thin slices. I'm all for a thick sandwich, but you want all the ingredients in proportion to each other.
Enjoy!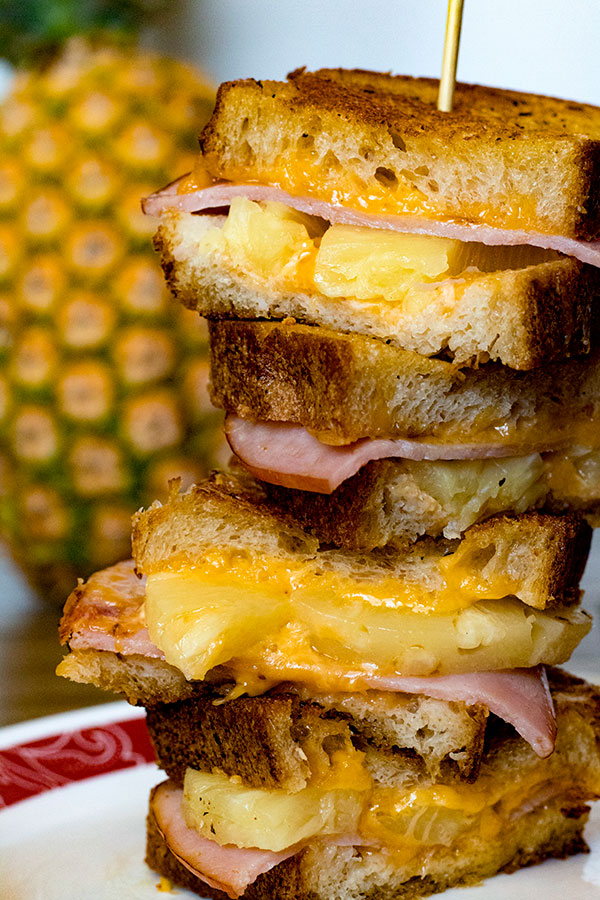 Hawaiian Grilled Cheese Sandwich
Course: Lunch, Dinner
Ingredients
2 slices of bread

2 slices of pineapple, fresh or canned

3 slices Canadian bacon

1/2 cup shredded Monterey Jack cheese
Directions
Butter one side of each slice of bread with Garlic Butter.
Place butter side down on a skillet or frying pan. On one slice of bread, put 1/2 the cheese, then pineapple slices. On the other slice, sprinkle the rest of the cheese and the canadian bacon.
Toast over medium heat until bread is toasted and cheese is melty.
Flip one half over onto the other half to make a sandwich.
Serve immediately.