Cajun Salmon
Our Grilled Honey Butter Cajun Salmon recipe is SO tasty! It's sure to quickly jump to the top of your favorite summer recipes. Salmon can sometimes be a tricky ingredient to work with. Overcooked salmon is never a good thing, and you often need to add lots of flavor.
The great thing, though, is that salmon will soak up any flavor you give it. So this recipe calls for a sweet and spicy combination: our Fresh Churned Creamy Honey Butter and cajun seasoning!
Prep
Start by laying your salmon fillets out. It doesn't matter how big they are, as long as they're about the same size so they'll all have roughly the same cook time.
Spread some Honey Butter on top, then sprinkle a generous dusting of cajun seasoning. You can find ready to use cajun seasoning at the store, but if you want to make your own, feel free. There's all kinds of delicious spices and herbs in the mix. If you can handle a bit of heat, be extra generous with the seasoning.
Grilling
Preheat your grill and place the salmon on skin side down. If you fillet are skinless, then place the salmon so the Honey Butter and seasoning are on top.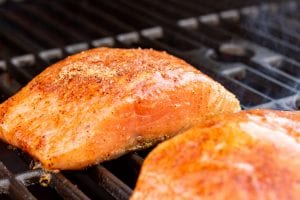 Cook over high heat for 4-5 minutes, then flip. Do another 4-5 minutes, then you're done! Be careful when flipping. We used both tongs and a flipper to make sure the fish didn't flake apart.
Enjoy!
Grilled Honey Butter Cajun Salmon
Course: Dinner
Directions
Preheat your grill to high.
Lay your salmon fillets on a baking sheet. Brush the top of each fillet with Honey Butter, then season generously with Cajun spice.
Place salmon on grill for 4-5 minutes, then flip and cook an additional 4-5 minutes.
Remove from grill and serve with fresh lemon wedges and fresh cilantro.