Pizza
Zucchini Pizza Bites are delicious, bite sized, veggie pizzas! They're a great after-school snack or fun family dinner!
I've never met anyone who doesn't like pizza. But many people don't eat it as much as they want to because of all the carbs. So save yourself and your waist line by making your pizza experience as healthy as it can be!
Zucchini is a pretty versatile vegetable– it's already a frequent substitute for pasta. Not only is it really nutritious, it's a delicious vegetable that can handle a lot of different flavors.
Here's what you do: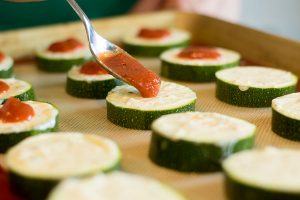 Bite Sized Pizzas
Get a zucchini or two. Try to get the biggest, thickest ones you can. The sizes will depend on whether zucchini is in season or not. Cut your zucchini into coins, about an inch thick, and lay them down on a greased baking sheet.
Generously brush some Chef Shamy Garlic Butter on top, and sprinkle a little salt and pepper as well. Zucchini takes on flavor well, but doesn't have much of its own. Salt and pepper is essential, and the Garlic Butter really adds a tasty flavor. You know. Garlic Butter is delish.
Spoon a little pizza sauce on each, sprinkle some mozzarella, and top off with some mini pepperoni. Throw them in the oven and voila! You've got your low carb pizza bites!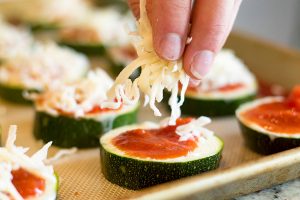 Some Tips
Don't overbake! If you leave your pizzas in the oven too long, the zucchini will be soggy and mushy. Zucchini is best when it's just soft, but only just. Really, as soon as the cheese is melted, you should be good.
Just like any other pizza, you can choose your own toppings. If pepperoni isn't your thing, mix it up with some veggies or another type of meat. There's no wrong answer here.
Enjoy!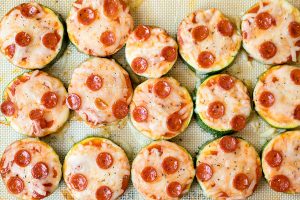 Zucchini Pizza Bites
Course: Snacks
Ingredients
1-2 large zucchini, cut into 1 inch coins

Salt and pepper, to taste

½ cup pizza sauce

1-2 cups shredded mozzarella cheese

½ cup mini pepperonis
Directions
Preheat oven to 350° F
On a large greased baking sheet, arrange your zucchini coins in one layer. Brush each coin generously with Garlic Butter. Season with salt and pepper, to taste.
Add a teaspoon of pizza sauce to each. Sprinkle with mozzarella, and top with mini pepperonis.
Bake at 350° for 6-10 minutes. Remember zucchini will soften up after they are out of the oven. Don't overbake!
Let cool 3-5 min, then serve.