Soup
There's nothing better than a really good soup, especially when it's cold. And heaven knows we've been having more than our share of cold lately. Unless you live in a warm place. To you, I say: consider yourself lucky and have pity on the rest of us! In the midst of soup season, it's hard to find a soup that's healthy. No one wants soup to sit heavy.
You want soup to fill you up, and keep you warm, but not make you feel like you've gained 10 pounds! Enter: Creamy Garlic Cauliflower Soup! Not only is it healthy, it's Keto friendly!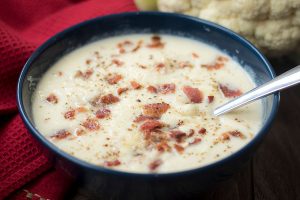 Keto Diet
Short for Ketogenic, the Keto diet really just means that carbs are bad. The idea is that through limiting the amount of carbs that you intake, your body will release"ketones," which helps you to burn fat. It's a healthy way to go, and I've known a lot of people who do Keto. All of them really love Chef Shamy Butter, because it's something they can use to flavor their food while still keeping to their diet. The cauliflower keeps things low carb and delicious, and blends down into a really creamy soup. And creamy soup is the best!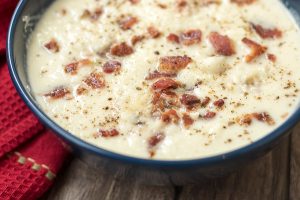 Garlic Butter
The butter of choice here is, say it with me, Chef Shamy Parmesan Basil Garlic Butter! Everyone's favorite butter. The garlic flavor is amazing, and works really well with the onions and cauliflower in the soup. The Parmesan is a nice addition, and we punch things up by adding a little extra Parmesan at the end.
Garlic is great– it allows for so many different complementary flavors, because garlic is good with everything. You can garnish this soup with more Parmesan cheese, bacon bits, chickpeas, some cauliflower sauteed in garlic butter, or anything else that strikes your fancy! But one thing's for sure: you've gotta serve it with some Chef Shamy Garlic Bread!
Here's a fun read: What to Serve with Every Soup!
Enjoy!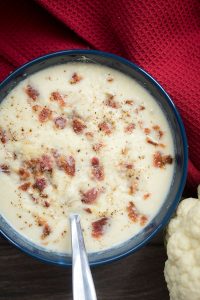 Creamy Garlic Cauliflower Soup
Course: Lunch, Dinner
Ingredients
1 onion, diced

1 head of cauliflower, chopped

4 cups vegetable stock

3 sprigs fresh thyme

1 cup heavy cream

1 cup Parmesan cheese, grated

Salt and pepper, to taste
Directions
In a large pot, melt Garlic Butter over medium heat. Add diced onion and saute until the onion is translucent.
Add cauliflower pieces and sprigs of thyme, and stir to combine. Pour vegetable stock over cauliflower. Bring to a boil, then reduce heat and simmer for about 20 minutes, or until cauliflower is tender.
Remove sprigs of thyme. Use an immersion blender to puree the soup until smooth. If you don't have an immersion blender, transfer the soup to a regular blender in batches.
Stir in the cream and Parmesan, then season with salt and pepper to taste.
Serve with more Parmesan cheese and bacon bits.