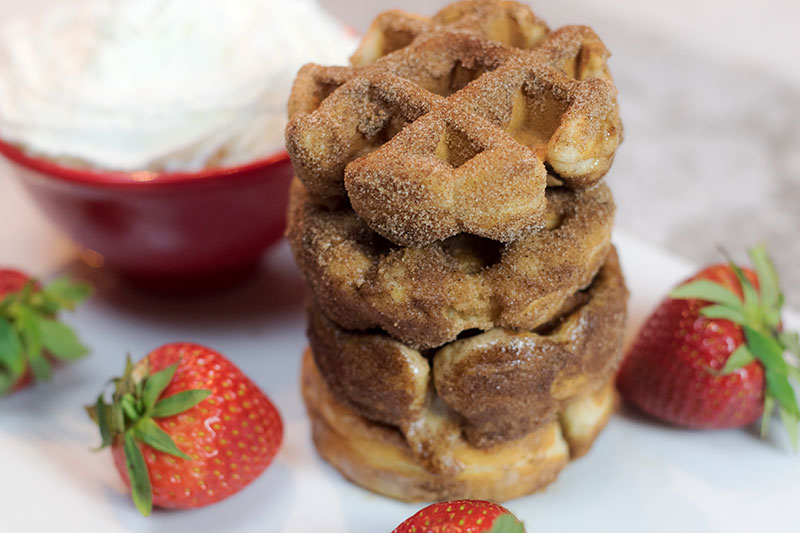 Do you ever have those days where you just don't want to eat right? Well then today is your lucky day because today we have Churro Waffles! I'm not exactly sure how I came about this recipe. Maybe it was a longing to be in Disneyland and eat one of their Churro Funnel Cakes. I really just want to chalk it up to letting loose and not worrying about what I have to eat for the day. As my Tennessee relatives would say though, "I'll tell you what!" Man, these churro waffles were the best thing I've had in a long time.
Churro Maker
When I was living in Brazil, I came across a churro maker/filler. I had never really fried anything before, so this was a first for me. (Luckily there is no frying involved in making Churro Waffles.) I carefully followed the directions for the batter and loaded up the giant hand-held bicycle pump device with the gooey goodness. Then I slowly depressed the plunger and watched it squeeze out the star-shaped hole into the hot oil. This. This is what a taste of heaven must be. But wait, it wasn't done yet. This kit came with what seemed to be a syringe for an elephant! It was into this I loaded chocolate or dulce de leite and then inserted into the churro and filled that thing full of even more sugar… sorry, I just drooled on my computer thinking about it.
Enter the Churro Waffles Maker
Anyway, I'm not the biggest fan of too many fried foods anymore, so I wanted something that was still- oh so delicious and not full of grease. Eureka, the waffle iron. There seems to have been a recent food craze sticking stuff in waffle irons and then calling it food. I'm okay with that. There's even a blog that has a whole section of Waffle Grilled Cheese. I was okay with making baked churro waffles in a waffle iron, but I didn't want gigantic ones because it's really a snack and not a meal. Plus, the smaller ones would be easier to dip.
I was originally going to use just a regular size waffle iron and not use very much batter to make smaller pieces, but I came across, in my kitchen, a waffle iron that was 3 bite-size waffles. Perfect! The problem is, I wanted you to be able to just go out and buy it, but I couldn't find it anywhere. If you find one, let me know, I want another one. (It's the one on the Facebook video I made.)
Churro Waffles Recipe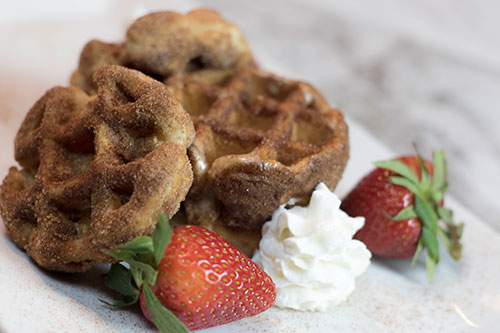 Cinnamon Churro Waffles
Prep time:
Cook time:
Total time:
Cinnamon. Sugar. Honey Butter. Need I say more?
Ingredients
Churro Batter
2 cups all-purpose flour
3 teaspoons baking powder
2 eggs
1¾ cups milk
Coating
½- 2/3 Cup Chef Shamy Cinnamon Brown Sugar Honey Butter (melted)
1½ Cups Sugar
¼ Cup cinnamon
Dulce de Leche Whipped Cream (optional)
Instructions
Whisk eggs in a large bowl, then add milk and melted butter until just combined.
In a separate bowl, combine the flour and baking powder, then add to the egg mixture until just combined, you don't want to over mix the batter so some small lumps are okay.
Pre-heat the waffle iron and spray it with cooking spray
Pour ⅛-1/4 cup of the batter the onto hot waffle iron. Cook until golden brown.
In a small, microwave-safe bowl melt the butter. In another flat bottom dish combine the sugar and cinnnmon. Make sure these ready when your waffles are ready to be removed from the waffle iron.
While waffles are still hot, dip each large surface of the waffle into the butter and then into the cinnamon sugar mixture. Spoon the mixture over to evenly cover the exposed side. Remove and gently shake tap off the excess sugar. Place on a wire rack to cool.
For the whipped cream, put the heavy cream in a chilled bowl. Beat for several minutes, until it just begins to stick to your beaters. Add the dulce de leche and beat again until just incorporated.
Churro Waffles are best warm, served with a dollop of whipped cream
Notes
Don't over whip the whipped cream or you will make your own butter.