Tater Tots
I have a confession to make. If you give me the choice between fries, onion rings, or tater tots, I'll choose tater tots 100% of the time. I love them! It may have to do with my rich personal history of tater tots– my dad grew up in East Oregon, right on the border of Idaho. And his father, my grandfather, worked for a time at the Ore-Ida factory. You know, the potatoes you can find in the freezer section? Grandpa would work to make and package Ore-Ida fries and tater tots. So with that bit of the past in mind, how could I not love tater tots? But you know what I love more than tater tots? Cheesy Garlic Bacon Wrapped Tater Tots!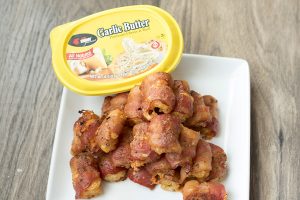 Cheese + Garlic +Bacon
Seriously, is there a better combination of delicious things? Everyone knows my addiction to cheese. I don't even try to hide it anymore. And bacon? Come on– bacon makes everything better. And then there's garlic. Yes, garlic is where our true love lies. And why not, when we have such a delicious Garlic Butter? You all know it, it's Chef Shamy Parmesan Basil Garlic Butter. Just put a dab on top of the bacon wrapped tater tots and the flavor absolutely spikes! Or you could really go all out and dunk the whole thing in melted Garlic Butter!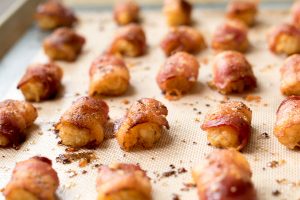 Finger Foods
The best thing about Cheesy Garlic Bacon Wrapped Tater Tots is there is no wrong place or time to serve them. Like any other finger foods, they are perfect for a party, a tailgate, or a potluck. If you prefer, stick a toothpick in once they're cooked to make it even easier. No matter for what occasion you make these, they'll disappear fast! I can't describe how delicious they are! Enjoy!
Bacon-Wrapped = The Best. So try these Bacon Wrapped Jalapeno Poppers!
Cheesy Garlic Bacon Wrapped Tater Tots
Course: Snacks
Directions
Preheat oven to 400° F
Wrap each tater tot and cheese rectangles in a piece of bacon. Repeat with remaining tater tots and cheese until you have have enough for a baking sheet.
Brush melted Garlic Butter on top (seam side down) of each bacon wrapped tater tot.
Bake at 400° for about 30 minutes, or until bacon is crispy.