To me, the yucca root is exactly how it sounds: yuck. However, grind it up, add butter and cheese and it creates something so wonderful that you wonder how you never knew about this region specific treat! Brazilian cheese bread (or Pão de Queijo as the locals call it) is specific to the Brazilian state of Minas Gerais. Why there? Who knows. In the northeast of Brasil where I lived, not many people make it (although that doesn't stop them from simply cooking yucca root and serving it to you).
With the Olympics just finishing up in Rio, I thought it apt to share with you all of my favorite Brasilian recipes. Some of them use Chef Shamy butter, and some don't. All of them remind me a humble country with people who take naps after lunch and like life to be simple and uncomplicated.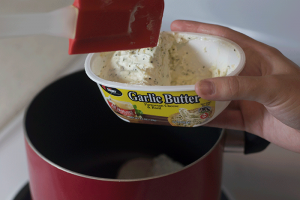 Now this recipe of Brazilian Cheese Bread calls for Tapioca Flour which means it's gluten free. I tried to substitute Potato Flour (because the yucca root is close to the potato), but I think I would have to play with the recipe a bit to make that work: it ends up soaking up all the butter and is too dry. Tapioca flour, as I said earlier, is finely ground yucca root and has a consistency very similar to cornstarch. I was able to find it at a grocery store near me, but not just everyone has it. If you really just can't find it, here's the brand and you can check to see if it's in your area: Bob's Red Mill Tapioca Flour. I'm actually considering buying the 25 lb bag because these are SO easy to make.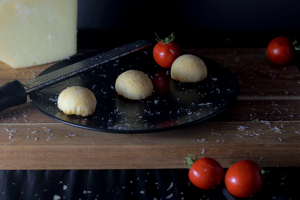 Brazilian Cheese Bread – Pão de Queijo
Course: snacks
Ingredients
1/2 Tub Chef Shamy Parmesan Basil Garlic Butter (4.5oz tub)

1/3 Cup water

1/2 Cup Milk or Soy milk

2 Cups Tapioca flour

2/3 Cup freshly grated Parmesan cheese

2 Eggs, beaten
Directions
Preheat Oven to 375 degrees F
Put butter into a large saucepan and place over high heat until nearly melted. Slowly add water and milk and bring to a boil while stirring. When it reaches a boil, immediately remove from heat and stir in tapioca flour until smooth. Set aside for 10-15 minutes. (This is so you don't cook the eggs when you add them).
Combine the egg and cheese into the mixture and stir very well. The mixture will be slightly lumpy. Drop rounded balls (just over the size of a tablespoon) onto an ungreased baking sheet. *Tip- get your hands wet before you make each ball so they don't stick to your hands
Bake until the tops are lightly golden- 18-25 min