Ground Turkey Skillet
This delicious skillet dinner is keto-friendly and incredibly easy to make. It's full of nutritious veggies, protein packed ground turkey, and flavored with our Fresh Churned Black Truffle Butter. You don't need to be eating low-carb to enjoy our newest recipe: Black Truffle Keto Ground Turkey Skillet!
Let's talk through the recipe.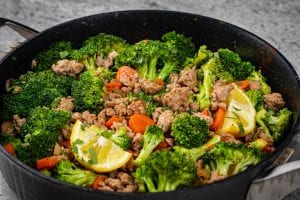 Ground Meat
The first step in the process is to brown the ground turkey in a large skillet. Make sure you'll have enough room for all the veggies as well; this is a one-pan meal! Ground meat is perfect for this dish because it's easy and quick to cook. You could really use any ground meat you want– chicken, pork, beef.
You can also use not ground meat. Chunks of chicken, pieces of beef. Use whatever you like, and whatever fills your dietary needs.
Once the meat is cooked, remove it from the skillet. Saute some onion, carrots, and broccoli in our delicious Black Truffle Butter.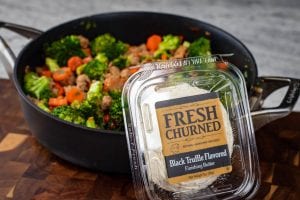 The Sauce
Once you add the meat back into the skillet, add some sesame oil, lemon juice, and soy sauce. There's sweetness, saltiness, acidity, and earthiness– all mixed together in one bite.
Finish the recipe with some hot sauce– we used sriracha — to your personal preference. Add some fresh cilantro and lemon slices, and serve!
Enjoy!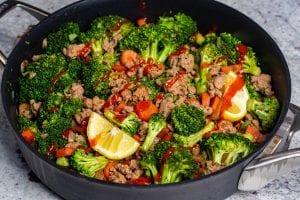 Black Truffle Keto Ground Turkey Skillet
Course: Dinner
Ingredients
1 T cooking oil

1 lb ground turkey

1 onion, diced

1 cup carrots, diced

2 cups broccoli florets

1 tsp sesame oil

2 T lemon juice

¼ cup soy sauce

2 T hot sauce, or to taste

Salt and pepper, to taste

Fresh chopped cilantro

Lemon slices
Directions
Heat cooking oil in a large skillet over medium heat. Add ground turkey and cook until browned. Remove from the skillet.
Melt Black Truffle Butter in the skillet. Add onions, carrots, and broccoli florets. Cook 5 minutes, then add sesame oil, lemon juice, and soy sauce. Stir to combine, then put cooked turkey back into the skillet.
Garnish with hot sauce, cilantro, and lemon slices. Season with salt and pepper as needed.
Serve immediately.