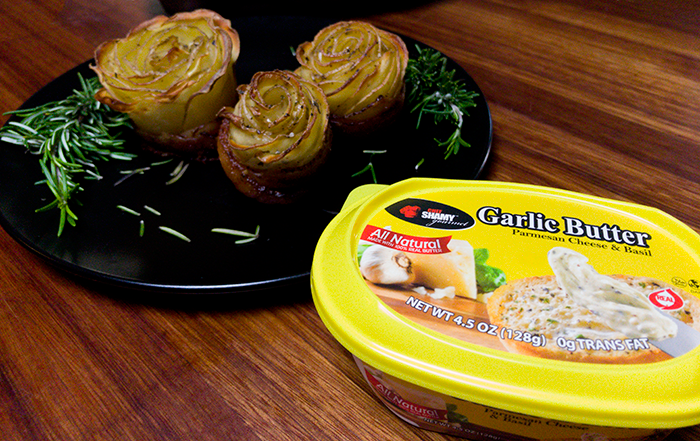 Garlic Butter Potato Roses
Course: sides
Ingredients
About 3 pounds Yukon Gold potatoes

1 Package of bacon (12 slices or more)
Directions
Preheat oven to 400 degrees Fahrenheit
Slice potatoes to about 1/16 to 1/8 inch thickness using a mandoline or very sharp knife. Lay the potatoes in a line (try to keep the top of your line straight as this will become the bottom of the flower). Then carefully begin rolling at one end and make it as tight as you can without breaking the potatoes. While holding the newly made rose, take the bacon and wrap it all the way around the bottom of the flower and then place in a muffin tin that has been sprayed or basted with the butter. You can loosen the rose a little while it is in the pan.
Baste with softened Chef Shamy Garlic Butter.
Bake in preheated oven until potatoes are tender, 45 to 60 minutes- checking often. If the potatoes begin to look too brown but the bacon isn't quite crispy yet, carefully cover the pan with foil for the final minutes of baking.
Loosen edges of potato roses with a fork and carefully lift out of the pan to serve.