Top 10 Must Have Disneyland Foods List (in order of must-have)
If you are in the mood for a laid-back atmosphere, in a place where your water cup is always full and there are mint juleps aplenty, the Blue Bayou is the place to be.  I've tried just about everything on the menu and all other items pale in comparison to the tender, succulent beef that's cooked so well you could cut it with a butter knife.  The filet mignon at Blue Bayou has to not only be my favorite meal at Disneyland, but it's ranked pretty high on my "favorite meal of all time" list.  Note though that you can only get it during dinner- it is not served during lunch time.

I heard at one point that Disneyland got rid of their Peanut Butter Sandwiches.  Let's just say that it's a good thing that I didn't know about them at the time because I would have been a sobbing mess with all the separation anxiety.  Do you ever discover something in your life that you didn't know you needed, but once you had it, you wondered how you even functioned without them?  That's the Disney Foods magic of their Peanut Butter Sandwiches.  You can almost guarantee I will have one of these in my hand… or mouth, at all times the next time I'm at Disneyland.  It's a wondrous miracle that they are found in two locations in the park. FYI, my wife bought enough to take home with us that TSA gave me a judging stare as we lugged a suitcase full through security.

French fries.  I'm not a big french fry fan, but there's some sort of magic in the Pommes Frites at Café Orleans.  Pair that with their remoulade for dipping and you can just roll me right out of the park.  Coincidentally, I believe that our Parmesan Basil Garlic Butter is a close cousin of the Disney Pommes Frites, as they share many of the same characteristics.  Parmesan and garlic really do wonders for any kind of food and the boring ole French fry is no exception.  Maybe I'll do up a Disneyland foods Pommes Frites copycat recipe in one of my next posts. 

A bunch of guys (or gals) were sitting around a table one day with their amazing ham and cheese sandwiches and then one of them says to another, "This ham and cheese sandwich is so amazing, there's nothing in this world that could make it better." And then another says in an uncanny Barney Stinson voice, "Challenge accepted!" And you know what he went and did?  He deep fried it.  That is the truest story I ever made up.  Except the part about the deep fried ham and cheese sandwich… with powdered sugar… and a fruit dipping jam.  Somehow, that last part is all true.  Let's just face it, I'm just jealous I didn't think of it first. Coincidentally, not only can you get the Monte Cristo at Café Orleans, but you can get an even bigger portion at The Blue Bayou during lunchtime.  Seriously though, be ready for some RICH food. 

If you've made it this far, I bet you're thinking, "Man, how much does this guy weigh?"  If he starts at the beginning of this list and has eaten just the first four items, surely he's spent his 2,000 calorie recommended daily allowance for the next two weeks… and you'd be right.  I'll let you in on a little secret that will keep you looking amazingly slightly overweight and cherubly chubby: eat all these things.  Life is too short to always be chasing that perfect body.  If you're at Disneyland, you're on vacation, so relax a little. You'll know your limits.  Probably when you enter a sugar coma from eating the simply decadent Salted Caramel Chocolate Sundae.  The free little chocolate they give you when you enter the store will be your tipping point and the literal cherry on top will be the proverbial cherry on top of a good vacation that became a great one. 

Broasted Chicken from Plaza Inn

I'm going to be downright honest with you on this one.  When people recommended the Broasted Chicken to me, I was like, come on, it's fried chicken, how good can it be?  Finger-licking delicious!  (See what I did there?)  The plates are huge and one plate can, in reality, feed three people… or my sister's boyfriend.  Anyway, I found the best time to get this is at dinner time when people are trying to cram their way into the sitting room on Main Street an hour before the night parade starts.  You should be able to walk right in and get a plate and enjoy it without waiting in ANOTHER line.  I give my stamp of approval on this dish.

The bread is made in-house.  In fact, they've made it an attraction.  No animatronics here as they take you on a tour of the bread-making process and then tease you with a slice of bread that will have you turning into Oliver Twist: "Please sir, can I have some more?"  And more Disneyland foods you may have!  It's a bit pricey for what you get (only about 1 cup of soup), but it's rather enjoyable and the bread bowl leaves that tangy sourdough taste lingering in your dreams.  They also have clam chowder and other soups of the day, but I like the potato soup best.

The River Bell Terrace is sort of a little secret.  One ultra-busy day my mom simply had to get out of the crowd and so she ducked into the first place she could get seated.  They put her in the terrace seating overlooking the sea of strollers and Mickey ears weaving in and out lines for food and pirates.  She had the wedge salad which was quite refreshing.  On her return trip she took us there and my wife ordered the short ribs.  Well, we made short work of those short ribs and that is why it's on the best Disneyland Foods top ten list.  Great sauce and perfectly cooked.  Just make sure you ask to sit outside because the greenhouse can get a bit noisy.

Fire Cracker Duck Wings from Carthay Circle

Here's the thing about Carthay Circle:  it's not about trying to cram everything in the park into one day… unless you're trying to cram everything in the park into one day. If you are, I would suggest eating at Carthay when you have a bit more time on your hands.  Or, if you're just completely exhausted.  One of my favorite things to do is go to Carthay when it's just blisteringly hot and you just need to slow down and have a delicious glass of coca-cola, or five.  The decoration at Carthay is beautiful- photos of Walt and old movie stars encased with golden and mahogany tones as classic decor meets contemporary dining.  This restaurant is mostly about the experience (reminder, it is a bit on the pricier side) and less about the Disneyland foods.  While none of the food really blew me away, if I were to recommend anything it would be the Fire Cracker Duck Wings.  They have the perfect blend of spices that leave your mouth burning in the perfect kind of way.  A runner up to this might be their signature fried biscuits with apricot butter.  Just note that if you get the World of Color Dining Package or the Frozen Dining Package, that you may have a fixed menu (with limited choices) that may not include the option of the Fire Cracker Duck Wings.

TBD – The Grey Stuff is no longer on this list
Disneyland Foods Honorable Mentions
These Disneyland Foods aren't a must, but are sort of tradition for me and so receive and honorable mention:
Twisted Ambush from Tropical Hideaway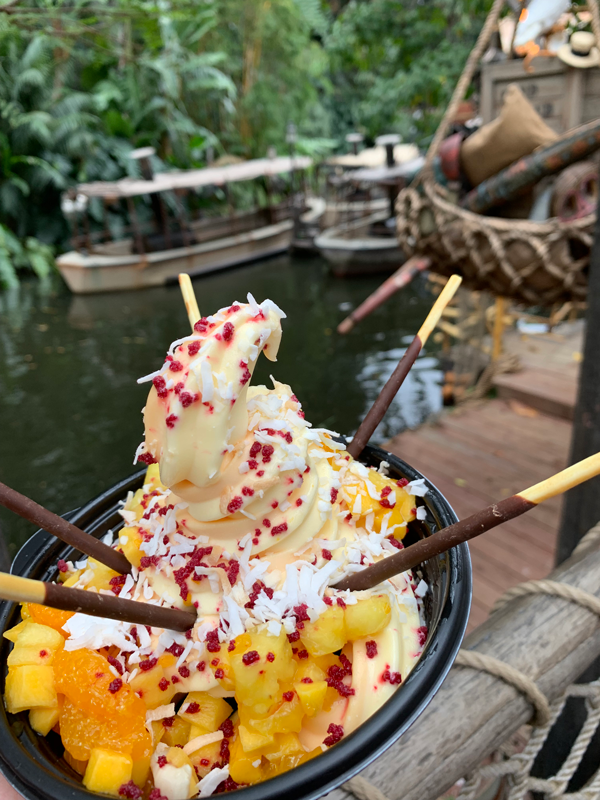 This is BRAND NEW (2019) and should really be in my top 10 list  I will get one of these every time I'm there. It's behind the Tiki Room where Aladdin's used to be. Grab a chicken (not beef) steamed bun with its sauce while you're there too- delicious.
Dole Whip from the hut next to the Tiki Room – I can get these at my local amusement park and even at my local movie theater, so they have become a little less special, but they're still tasty! 
Mickey Shaped Beignets from the Mint Julep Bar in New Orleans Square – To me, these are simply powdered doughnuts.  Sometimes though, you just need a doughnut.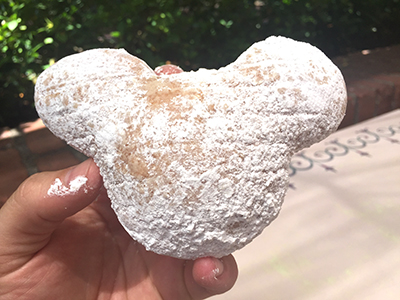 Mint Julep – If I get a beignet, I have to wash it down with a mint julep.  Fortunately, they are for sale at the same place you get the beignets!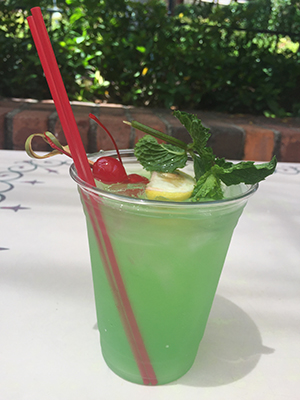 Giant Turkey Leg from various carts around Disney (there's one near Thunder Mountain Railroad, one in California Adventure near the Muppet Theater, and one near the Toy Story ride) – These are real turkey legs cured with salt water and smoked for six hours.  At a whopping 720 calories they are plenty of fuel for at least 3 people.  By the way, everyone's doing it.  Disney sells an estimated 1.6 billion of these turkey legs every year.
[Updated] The Grey Stuff from

Red Rose Taverne
[Sadly, this has been pushed off my list because they have filled the center with red velvet cake.  And while this is a fun treat, I can't say that is officially in the top ten anymore.]
And finally, our newest arrival of them all:  The Grey Stuff.  It's delicious.  And you just sang the rest of that in your head, didn't you?  The Red Rose Taverne is new to Disneyland as of 2017.  It is where "Geppetto's Cheaper Food Option that Few People Visited" used to be (at least I'm pretty sure that's what it was called).  The Grey Stuff has been in Disney World for a while, and finally made its way to California. It's a delicious cookies 'n cream mousse with candied chocolate beads.  The Red Rose Taverne also has some other fun items such as the poutine or LeFou's brew.  I hope this one sticks around for a while because it's no longer the tired pizza or pitiful pasta of the previous Disneyland foods menu.