Delicious Gourmet Honey Butters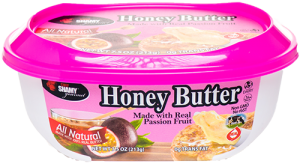 This flavor has been Temporarily Discontinued
Passion fruit is known for its sweet and slightly tart exotic flavor. As it becomes more readily available, passion fruit continues to grow in popularity. Chef Shamy has taken this distinctive fruit and expertly combined with our delicious, gourmet-flavored churned honey butter for an all-natural alternative to boring spreads. Our Fresh Churned Gourmet Honey Butter with Passion Fruit is a delicious addition to both sweet and savory cooking alike. As you look for a way to take your cooking to the next level, look for Chef Shamy products in your local store or online.               
Honey Butter with Passion Fruit Recipes
Since Chef Shamy only uses all-natural ingredients in our gourmet flavored butters, they are easy to incorporate into your favorite recipes. Suitable for both savory and sweet cooking, our Honey Butter with Passion Fruit is a flavorful addition to a simple chicken marinade. Begin by melting one third of a cup of our Honey Butter with Passion Fruit. Once cooled, whisk the butter with three tablespoons of soy sauce, two tablespoons balsamic vinegar, one tablespoon of orange juice, three cloves of crushed garlic, and a teaspoon of both salt and pepper. When you have thoroughly combined all the ingredients, transfer to a plastic bag and add in about two pounds of raw chicken. Squeeze out all the air and place in the fridge to marinate for at least 30 minute, four to five hours is ideal. Grill until the internal temperature of the chicken reached 165 degrees Fahrenheit. The sweet-tartness of the passion fruit perfectly complements the flavor of the soy and the richness of the butter. This Chef Shamy recipe is sure to wow your friends and family. 
Chef Shamy's fresh churned passion fruit honey butter frosting recipe is sure to make any celebration that much better. We love this special buttercream frosting on our Super Duper Double Vanilla Cake . Let the butter come to room temperature first for smooth, easy-to-spread frosting, then mix in four cups of powdered sugar, one teaspoon of vanilla and four tablespoons of milk. Once the cakes have cooled thoroughly, spread the frosting liberally over the cakes, cut and enjoy! 
Fresh Churned Gourmet Butters 
Our butters are an excellent way to sweeten up your day. Available online and in your local market, Chef Shamy Honey butter with Passion Fruit should be at the top of your shopping list! The next time you want to experiment in the kitchen, add our gourmet butters to your favorite recipes.  
Passion Fruit Pancakes
Island French Toast
Buttermilk Scones