Chips and Dips
Football season is upon us, so the time for appetizers and finger foods is upon us! One of my favorite game time snacks is chips and a good dip. And boy, is this Southwestern Corn Salsa good. It actually surprised me how delicious it was. Of course, I was expecting it to be good, but it was absolutely fantastic. I ate way too much of it and then made it again a couple days later. To be honest, I'm thinking about making it again for football today. It's fine. I'm addicted.
Southwestern Saute Butter
Southwestern Corn Salsa uses Chef Shamy Southwestern Saute Butter, one of my favorites. It's not a butter that we have done a lot of recipes with yet, but we'll be doing a lot more. It's a beautiful blend of chili spice and herbs, but it's not super spicy. Just bursting with flavor. Actually, I think the best part about it is the little hint of lime that comes through. It adds a little zip of zesty lime flavor for this corn salsa, right on the tip of your tongue. Mmmmmm. I want it. We've talked about how I have a problem, right?
One of the great things about our Saute Butters is this: when you use a Saute Butter, all of your flavor is right there in that container. You won't even have add salt and pepper. It's a miracle. And I found that to be true for this corn salsa. I thought I would need to add a boatload of salt — every ingredient in this recipe needs salt — but I was wrong. The butter was enough, and the Cojita cheese added a little saltiness as well.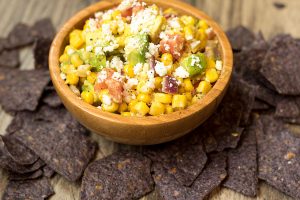 All About the Taste
Chef Shamy prides itself on being all about the taste. Recipes like this really make me happy, because not only does it taste good, but you won't feel bad eating it. Everything is healthy and colorful. If you want to feel even better about yourself, get some Organic Blue Corn Tortilla chips. That's what I did, and it was great. I love Blue Corn Chips, they've got such a better flavor than regular tortilla chips.
But there's always the option to make your own tortilla chips– homemade always tastes better! Here's a healthy baked tortilla chip recipe to get you started!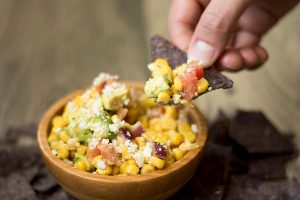 Southwestern Corn Salsa
Prep time:
Cook time:
Total time:
Ingredients
2 cups corn
1 jalapeno, diced and seeded
½ cup red onion
2 T sour cream
¼ cup Cojita cheese
½ cup diced avocado
½ cup diced tomato
Salt and pepper
Instructions
Melt Chef Shamy Southwestern Butter in a hot skillet
Add corn, jalapeno and onion, and saute until coated in the butter and onions are mostly cooked
Add sour cream and cheese. Stir until combined. Take off the heat and transfer to a bowl
Stir in avocado and tomato.
Salt and pepper to taste
Top with extra cheese and serve immediately with tortilla chips