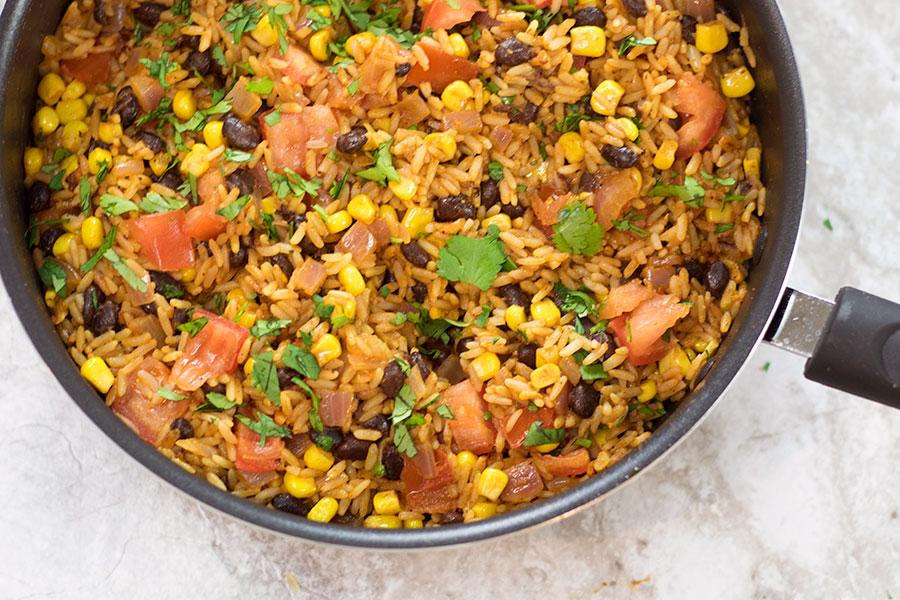 Mexican Rice, Staple of Mexican Restaurants
I went to lunch at a Mexican restaurant today, and boy, it was delicious. I'm a big fan of Mexican food- most of us probably are. And in every Mexican restaurant that I can think of, they always serve Mexican rice. It can be a side dish, or part of a combination plate, or in a burrito. However you have it, Mexican Rice is a staple of American Mexican cuisine, so there's no reason not to learn how to make it at home with our Chef Shamy Southwestern Butter!

Traditional Mexican Rice
In Mexico, this type of dish is called "Arroz," which is the Spanish word for "rice." If you're in Northern Mexico, the rice would be cooked with tomatoes and chicken broth. In Southern Mexico, you would be more likely to get plain white rice. Actually, a lot of people call it "Spanish Rice," but there is no exact dish like this in Spain! Though, to be fair, the Spaniards were the first to introduce rice to Mexico. But I'll still stick with Mexican Rice.
Side Dish or Vegetarian Meal?
We've added a few more ingredients to round out the dish and make it more filling. You could use this as a side dish if you wanted, but you could also use it as a delicious meal. When I first got married, my wife and I had some friends who were vegetarians. We liked to cook dinner together, but it was sometimes hard to adapt my recipes to make them vegetarian-friendly. This would have been perfect! The beans have a lot of protein and the addition of the corn and tomatoes make this dish super filling. Maybe serve it with some some chips and salsa or guacamole! And did I mention that it's a one-pot recipe? No extra dishes! So simple and so delicious! Enjoy!

One Pot Mexican Rice Skillet | Chef Shamy
Ingredients
⅓ cup Chef Shamy Southwestern Butter
1 onion, diced
2 cups long grain rice
2 cups chicken broth
8 oz can tomato sauce
14.5 oz can black beans, drained
14.5 oz can corn, drained
1 cup diced tomatoes
¼ cup cilantro
Instructions
In a large skillet, saute the Chef Shamy Southwestern Butter and onion until onion is tender
Add rice, tomato sauce, and broth and bring to a boil
Stir in beans and corn
Cover and simmer for 15-18 minutes, or until rice is tender and no longer crunchy
Remove from the heat, and stir in tomatoes
Garnish with cilantro