Popcorn!
I love popcorn! I will take popcorn over chips, crackers, or anything else salty. When I was growing up, my mom would make popcorn with the old air popper. It sounded like a jet engine, and took forever to warm up, but the end result was always delicious. Mom would melt butter and pour it slowly over the popped corn in waves, adding salt and tossing it. Then, of course, we would all hunt around for the buttery pieces first, which greatly annoyed her. Suffice it to say, popcorn has a special place in my heart.
And, our Spicy Popcorn is so easy to make, it will soon have a place in yours too!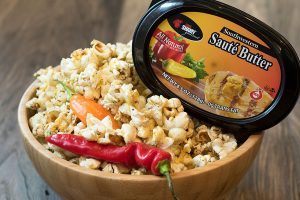 The Spicy Part
Well, it's not super spicy, let's start off with the truth. But, it has the wonderful chili flavor of Chef Shamy Southwestern Saute Butter. I love this butter. It's got an awesome southerwestern-y, lime-y, zesty flavor that really gives you a kick. Sadly, this butter can be hard to find, but if you can get your hands on some, you'll be glad you did. It's one of my favorite butters.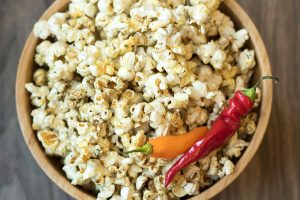 Different Ways to Make Popcorn
There are a lot of different way to pop corn. Like my mom, some choose an air popper. I use a Whirley-Pop, one of the most used gifts given to us at our wedding. Some people do traditional in a pan. There are lots of contraptions and appliances that allow people to pop corn.
So. If you cook popcorn in oil of some kind, just add a little bit less and then right before the kernels start to pop, add a couple of tablespoons of the butter. If you throw it in too soon, the butter will burn, and your popcorn will taste as such.  I like doing it this way because the flavor gets a little more evenly distributed than just drizzling the butter on top of the already popped corn.
If you cook with no oil (like an air popper), just melt the butter down and sprinkle it over the popcorn when you're done. It's amazing. In fact, even if you popped it in the butter, drizzle some more butter on top. The flavor will be great– and there's no such thing as too much delicious butter flavor.
ENJOY!
Try our Vanilla Bean Caramel Corn!
And here's a great list of 15 Ways to Pop Popcorn! Try something different and see what you think!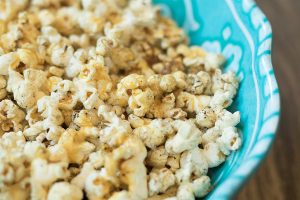 How to Make Spicy Popcorn
Instructions
Pop ½ cup popcorn kernels according to your favorite method
If using oil, add 2 T Southwestern Butter just as the kernels start to pop. Then drizzle the rest of the butter,melted, over your popped corn and toss to coat
If not using oil, melted all 4 tablespoons of butter and drizzle over your popcorn
Add salt if needed