Garlic Butter Cauliflower Pizza Crust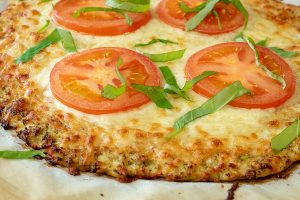 6 cups cauliflower rice
3 eggs
1 tsp dried basil
1 tsp dried oregano
½ tsp salt
¼ tsp black pepper
½ cup Parmesan
4 T Fresh Churned Garlic Butter, melted
Pizza toppings, as desired
Preheat oven to 375° F.
Spread cauliflower rice onto a baking sheet and bake for 15 minutes. Allow to cool slightly, then use a towel or cheese cloth to squeeze out as much of the liquid as possible from the cauliflower.
In a large mixing bowl, combine cauliflower rice with eggs, basil, oregano, salt, and pepper and mix until combine.
Increase oven temperature to 450° F.
Transfer cauliflower dough to a greased or lined baking sheet and press down with your hands until a thin pizza crust is formed.
Sprinkle the top with Parmesan cheese, then bake 10 minutes.
Remove from oven, and brush melted Garlic Butter on generously. Bake another 10 minutes.
Add toppings as desired, then bake until cheese is melted.
Serve.
Recipe by
Chef Shamy
at https://chefshamy.com/garlic-butter-cauliflower-pizza-crust/