Cheesy Tater Tot Kebabs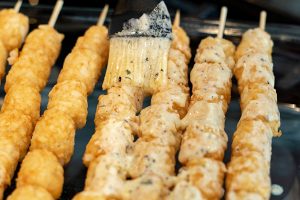 ½ bag Tater Tots
1 cup shredded cheddar cheese
1 cup cooked bacon, crumbled
2 T chives
Sour cream (optional)
Preheat oven to 375°F.
Skewer tater tots, 4 or 5 on each skewer. Lay kebabs across a baking dish. Brush with melted Garlic Butter.
Bake for 15 minutes.
Remove from oven, and top with cheese and bacon. Bake an additional 5 minutes, or until cheese is melted.
Garnish with chives and serve with sour cream, if desired.