Garlic Parmesan Roasted Summer Squash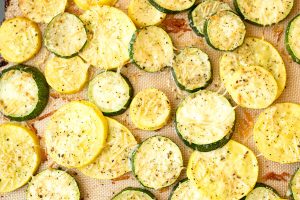 1 large zucchini
1 large yellow squash
Salt and pepper, to taste
½ cup Parmesan cheese, shredded
Preheat oven to 450° F
Slice zucchini and yellow squash into rounds, between ½ inch and 1 inch thick. Lay on a greased baking sheet in a single layer.
Brush melted Garlic Butter over each round. Season with salt and pepper, to taste. Remember you can add more after baking if needed.
Sprinkle Parmesan cheese evenly over the top.
Bake at 450° for 20-30 minutes, or until just tender.
Recipe by
Chef Shamy
at https://chefshamy.com/garlic-parmesan-roasted-summer-squash/