Caramelized Onion Spinach Bacon Pizza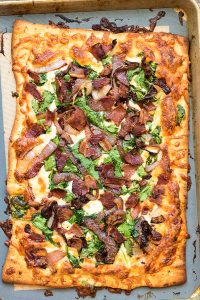 1 large red onion, sliced thin
Salt and freshly ground black pepper
1 lb pizza dough homemade or store bought
1 cup pizza sauce
2 cups mozzarella cheese , shredded
8 oz bacon, cooked and crumbled
4 oz baby spinach, roughly chopped
Preheat oven to 425° F
In a large skillet, melt Garlic Butter over medium heat. Add thinly sliced onion and season with salt and pepper, to taste. Saute 7-10 minutes, or until well caramelized.
Meanwhile, prepare your pizza dough by rolling it out on a lightly greased pizza pan or sheet pan.
Top with sauce and mozzarella cheese.
Add caramelized onions, bacon, and spinach and spread evenly over the pizza.
Bake at 425° for 15-20 minutes, or until crust is golden and done.
Let sit for 5 minutes before cutting, then serve.
Recipe by
Chef Shamy
at https://chefshamy.com/recipes/caramelized-onion-spinach-bacon-pizza/