Seared Ahi Tuna Steak Salad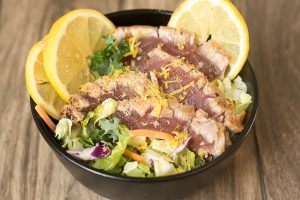 1 tuna steak
1 T fresh lemon juice
Lemon Zest of 1 lemon
Salt and pepper to taste
In a medium skillet, melt Garlic Butter over high heat. Once the skillet is warm, add tuna. Sear on both sides, about 1 minute each side.
Add lemon juice, lemon zest, salt and pepper to taste, and remove from the pan. Rest for 5 minutes.
Slice tuna steak into thin pieces and serve over greens.
Recipe by
Chef Shamy
at https://chefshamy.com/recipes/seared-ahi-tuna-steak-salad/