Pizza on the Grill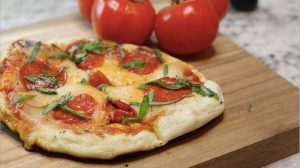 Pizza Dough
Pizza Sauce
Mozzarella Cheese
Pepperoni
Other toppings, as desired
Basil, for garnish
Turn the grill on medium low heat.
Place the pizza dough on the grill.
Let cook for 3 minutes, or until there are light grill marks.
Flip the dough over.
Paint the top with Garlic Butter-- make sure to get the outside crust!
Add sauce, cheese, pepperoni, or other toppings.
Close the lid of the grill and let cook for 5-10 minutes.