Garlic Bread Stuffing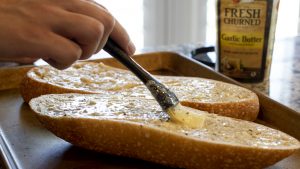 For the Garlic Bread:
1 loaf french bread
For the Stuffing:
1½ cup diced celery
1 onion, diced
1 T dried sage
½ T dried thyme
3 cups chicken broth
Preheat oven to 400° F.
To make the garlic bread, cut the loaf in half lengthwise. Spread Garlic Butter over the bread generously. Bake at 400° for 5-10 minutes, until butter is melted and bread is toasted.
Remove from oven, and cool 5 minutes.
Turn oven down to 350° F.
Cut the Garlic Bread into chunks and place in a bowl.
Meanwhile, add the additional Garlic Butter to a skillet. Saute celery and onions in the butter over medium heat. Add sage and thyme and cook 5 minutes. Add chicken broth, then pour into the bowl with the Garlic Bread. Mix until combined, then transfer to a greased baking dish (9x13).
Bake at 350° F for 30 minutes.