Black Truffle Mashed Potatoes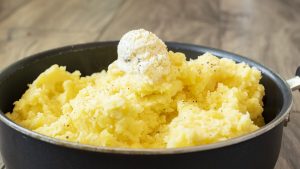 2 ½ lbs potatoes
1 cup half and half
½ cup shredded Parmesan cheese
Salt and pepper, to taste
Peel, dice, and wash the potatoes. Place potatoes in a large pot. Fill with water an inch above the top of the potatoes.
Bring to a boil, and cook until fork tender, 15-20 minutes.
Drain, then return potatoes to the pot. Add half and half, Black Truffle Butter, Parmesan cheese, salt, and pepper. Mash to desired consistency.
Serve.
Recipe by
Chef Shamy
at https://chefshamy.com/black-truffle-mashed-potatoes/