Sheet Pan Croque Monsieur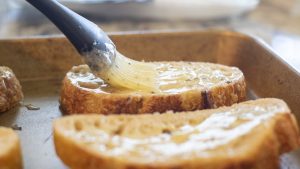 8 slices sourdough bread
1 cup Fresh Churned Garlic Butter, melted
8 slices aged white cheddar
8 slices ham
1 cup shredded gruyere cheese
2-3 T fresh basil, chopped
Fresh cracked black pepper
Preheat oven to 450° F.
Place slices of sourdough bread on a baking sheet. Brush Garlic Butter evenly over each piece of bread. Place 1 slice white cheddar cheese on top.
Add ham on top of that, then top with shredded gruyere cheese.
Bake at 450° for 8-10 minutes, or until bread it toasted and cheese is melted.
Garnish with fresh basil and fresh cracked pepper. Serve.
Recipe by
Chef Shamy
at https://chefshamy.com/sheet-pan-croque-monsieur/