Grilled Vegetable Kabobs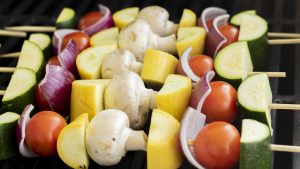 2 cups mushrooms
1 cup cherry tomatoes
1 red onion, cut into chunks
1 zucchini, sliced into thick half-moons
1 yellow zucchini, sliced into thick half-moons
3 oz Fresh Churned Garlic Butter, melted
Salt and pepper, to taste
Preheat grill.
Allow wooden skewers to soak in water for 30 minutes.
Thread mushrooms, tomatoes, onion, zucchini, and yellow sqaush (or whatever veggies you're using) onto a wooden skewer.
Place kabobs on grill and brush with Garlic Butter. Season with salt and pepper to taste.
Grill for 3-5 minutes, then flip. Brush with Garlic Butter again.
Cook until done.
Serve.